When she performed at Super Bowl XLVII in February 2013, Beyoncé produced one of the talked about halftime shows in history. Which songs did she perform at "The Big Game"?
Beyoncé performed several of her most famous songs including "Crazy in Love" and "Halo". She reunited with her fellow Destiny's Child members Kelly Rowland and Michelle Williams to perform "Bootylicious", "Independent Women Part I" and a unique rendition of "Single Ladies (Put a Ring on It)".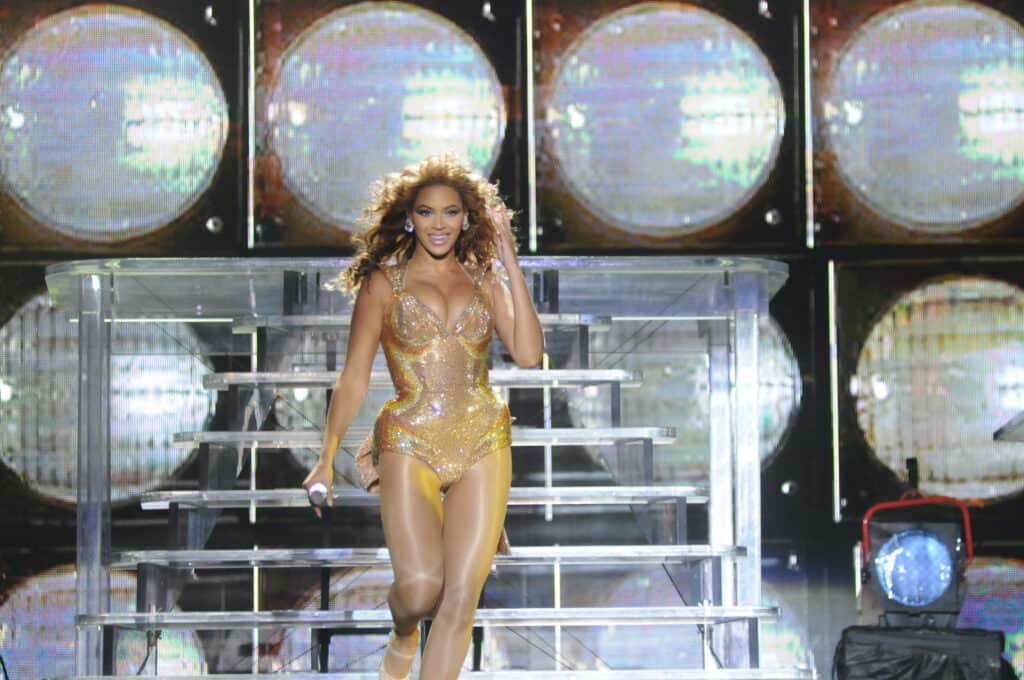 For more on Beyoncé's halftime show and some of its background, read on.
Build-Up
Beyoncé was first rumored to be the featured performer at the Super Bowl XLVII halftime show in October 2012. She seemingly confirmed the speculation when she posted an image of herself with the game's date, February 3, 2013, written on her face.
At the time, Beyoncé was one of the youngest female solo artists to headline the halftime show in its history. There were rumors that the show would feature Beyoncé's husband, Jay-Z, as one of her collaborators.
Ultimately, Jay-Z was absent from the show and sources stated that he wanted Beyoncé to enjoy the spotlight alone.
Beyoncé had performed "The Star-Spangled Banner" during the second inauguration of President Barack Obama on January 21, 2013. She was later accused of lip-syncing during the performance, which she confirmed had been the case in a press conference.
Feeling that the negative attention in the press had called her vocal ability into question, Beyoncé made a point of saying that she would be singing live during the Super Bowl halftime show. She also stated that her Super Bowl performance was what she 'was born for' and the culmination of her 16 year music career to that point.
Performance
Before Beyoncé arrived onstage, a countdown appeared, accompanied by her song "Countdown", followed by an instrumental intro from "Run the World (Girls)".
A speech by legendary Green Bay Packers coach Vince Lombardi was played as Beyoncé made her way onto the stage.
Beyoncé began her performance by singing an acapella snippet of "Love on Top" before beginning a ferocious performance of "Crazy in Love", followed by "End of Time".
She performed "Baby Boy", dancing alongside numerous video recordings of herself on screens behind and below her. Beyoncé made a point of asking the crowd to clap along with her, striking her microphone with her hand and proving that she was using a live microphone and not lip-syncing.
Kelly Rowland and Michelle Williams joined Beyoncé on stage, reuniting Destiny's Child to sing their hit songs "Bootylicious" and "Independent Women Part I", ending their second song by striking a Charlie's Angels pose. The song appeared on the soundtrack for the "Charlie's Angel's" movie, released in 2000.
Destiny's Child continued the performance by singing Beyoncé's song "Single Ladies (Put a Ring on It). Rowland and Williams exited the stage and Beyoncé asked the crowd to raise their hands towards her to feel their energy.
Beyoncé ended her set with a powerful rendition of "Halo" and thanked the crowd.
Reception
Beyoncé's performance was one of the most-watched Super Bowl halftime shows in history and drew widespread acclaim from both critics and viewers. The show was praised for its willingness to tackle social issues and celebrate black history and performers.
Her performance came a year after Madonna headlined the show in 2012 and represented a move away from the traditionally male rock acts that had dominated the halftime show since its inception. In the decade after Madonna's and Beyoncé's performances, the halftime show featured Katy Perry, Lady Gaga, Shakira, and Jennifer Lopez.
Music critics felt that Beyoncé had silenced anybody who had called her musical talent into question after the Obama inauguration, utilizing her vocal ability to full effect. Many also stated their opinion that her combination of singing and dancing ability made her an ideal fit for the requirements of the halftime show's relatively brief but highly demanding runtime.
The performance, aided by the buzz surrounding the one-night reunion of Destiny's Child, drew a passionate response on Twitter. During the halftime show's runtime, Beyoncé's performance was referenced in 268,000 tweets per minute, making it the most-tweeted-about moment in the site's history at the time.
In the week following the Super Bowl, digital sales for the performers rose exponentially from the week prior. Beyoncé sold 220,000 song downloads, an increase of 80%, while Destiny's Child sold 60,000, up 36%.