Sia isn't just a talented singer with a very unique voice. The 'Chandelier' singer is also a massively successful songwriter for other artists.
Sia wrote the song 'Diamonds' and 'Sledgehammer' for Rihanna. Rihanna's vocals were so similar on 'Diamonds' to Sia's on the final track that Sia thought she was hearing herself sing. The song 'Sledgehammer' was created for the movie Star Tek: Beyond. Sia has written for other artists including Beyonce, Christina Aguilera, and J.Lo.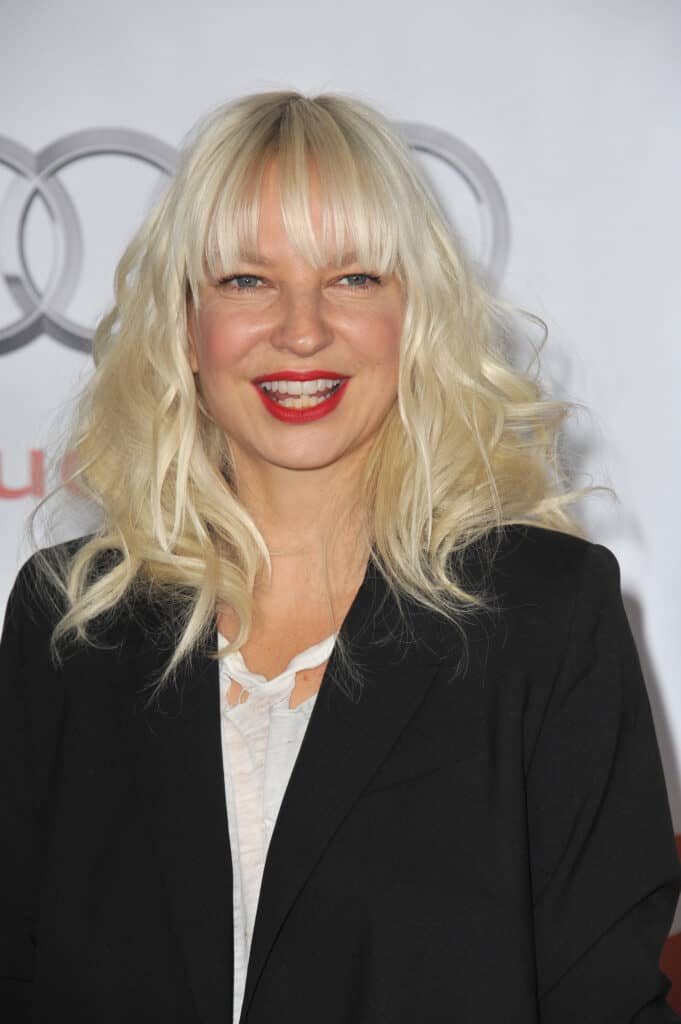 Scroll down to read more below about the two songs Rihanna sang by Sia, other artists Sia has written for, and her chart performance.
Sia's Songwriting Career
In case you didn't know, Sia has actually been active in the music world for about three decades now. Her career in the industry began in the mid-90s in her home country of Australia when she started working with a band named Crisp.
Crisp's music genre was acid-jazz-funk and Sia collaborated with them providing vocals for two of their albums. The band dissolved in 1997.
From there Sia released her debut album but it only sold 1,200 copies. She still put out more albums and her song 'Breathe Me,' off of her third album, ended up being a huge success in the US.
'Breathe Me' was used in the series finale episode of Six Feet Under. The popularity from her song being featured on the show in 2004 resulted in minor fame.
However, her mainstream success and fame were almost a decade away. It was in the time period between 2007 and 2010 that Sia started to rise in popularity and also write for other artists.
She collaborated with Christina Aguilera to write three songs that appeared on Aguilera's album Bionic. Sia also co-wrote the song 'Bound to You' which was featured on the soundtrack for the film Burlesque.
When Sia garnered more fame due to the success of her fifth studio album, We Are Born, she became increasingly uncomfortable with being in the public eye. That was when her manager, Jonathan Daniel, said that she should try songwriting.
So in 2010, she started penning songs for other artists, having decided to retire from her career as a singer. During that period, Sia became a songwriting machine pumping out hit songs left, right, and center.
She wrote songs for Rita Ora, Flo Rida, Lea Michele, and Eminem. Some of those songs were massive hits too, like Flo Rida's song 'Wild Ones.'
It was during this period that she wrote the song 'Titanium' for Alicia Keys. The song ended up in the hands of David Guetta's and he used Sia's demo vocals for the final track.
This move skyrocketed her to more unwanted fame. She was very upset about it.
Sia's Songs for Rihanna
Another thing that happened during Sia's focus on being a songwriter was her creation of the song 'Diamonds,' which she demoed for Rihanna. Rihanna liked it so much that she barely changed anything about the track other than replacing her vocals with Sia's.
Interestingly enough, Sia claims that she wrote the song 'Diamonds' in about 14-minutes as was reported by The New York Times in 2014. But, Sia is known for her fast writing style; she wrote 'TItanium' in only 40-minutes.
When you listen to 'Diamonds' by Rihanna, it's actually pretty clear that it was written by Sia. It has that same belting out of notes and off-center sound that Sia is known for.
You can watch the music video and listen to the song in the below video.
'Diamonds' isn't the only song that Sia has written for Rihanna either. She wrote the 2016 song 'Sledgehammer' for Rihanna to perform for the film Star Trek: Beyond.
Sia's song 'Cheap Thrills' was originally written for Rihanna, however, Riri opted not to sing it.
Sia's Chart Performance
Looking at her Billboard Hot 100 performance, one thing is clear: Sia can write killer top 10 hits. The song 'Diamonds' peaked at number one on the chart along with Sia's song 'Cheap Thrills.'
'Titanium' peaked at the number seven position and her song 'Wild Ones' with Flo Rida peaked at number five on the charts. The song 'Let Me Love You' written for Ne-yo reached number six on the chart too and the list goes on from there.
While not every song she has written has been a chart-topper, they have all still done extremely well. And, Rihanna has apparently gotten the best of Sia's work.