Politician Andrew Yang was a surprising dark horse candidate in the 2020 US presidential election, who ran on a platform of a universal basic income of $1,000 a month. Did this New York mayoral hopeful score over 1000 points on the SATs?
Andrew Yang has multiple SAT scores, as he took the test multiple times. At just 12 years old, he scored 1220 out of 1600, then took the test three more times each following summer, scoring 1310, 1400, and finally 1500.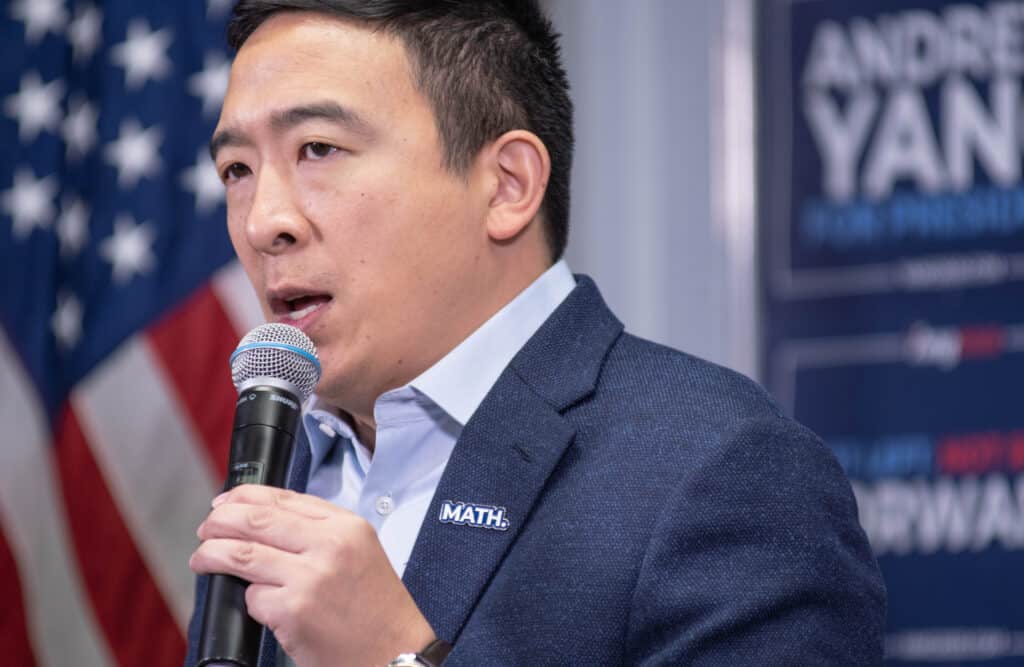 These jaw-dropping scores (and the ages at which he achieved them) are not the only fascinating thing about Yang's educational path. Read on to learn more about how Andrew Yang went from prodigy to politician.
Early Life and Education
As a child, Andrew Yang enjoyed playing the immersive fantasy role-playing game Dungeons and Dragons, as well as piano and tennis.
His parents were Tawainese immigrants who came to the United States for graduate school. By all accounts, he had a supportive home life, with parents who encouraged him to pursue higher education and elite opportunities; his mother, Nancy Yang, told The Washington Post how she remembers Andrew playing piano duets with his older brother, Lawrence as a young child.
At 12 years old, Andrew Yang's parents sent him to an elite summer program for gifted children. This program, called the Center for Talented Youth, required him to take the SATs.
He retook the test at 13, 14, and 15 years old; by 15, Yang decided to stop taking the SATs because his astounding score of 1500 out of a possible 1600 points would allow for admission to practically any university program he wanted.
Andrew Yang also attended the elite preparatory school, Exeter. Notable Exeter alumni include writer Roxane Gay and Facebook founder Mark Zuckerberg.
After graduating, Andrew Yang chose to attend Brown University, where he majored in economics and political science. However, he did not feel that his education was complete.
The next natural step was, of course, law school.
Andrew Yang continued in the tradition of his early SAT scores by scoring in the top one percent of all LSAT scores; he scored 178 out of a total 180 potential points.
As for the cherry on top of that score, he also managed to nab another Ivy League school when he was accepted into Columbia Law school. That's like the EGOT of academia!
He earned his Juris Doctor in 1999.
Political Career
Although Andrew Yang worked briefly as a lawyer, he did not enjoy it. He is most commonly known for his career in politics, not his legal career.
His 2020 presidential campaign garnered a massive following of supporters that called themselves the "Yang Gang."
He ran as a Democratic candidate. His campaign focused largely on economic policies, perhaps best known for his idea of a Freedom Dividend, which was essentially a monthly universal basic income of $1,000 for Americans.
Business Insider listed some of Yang's other policies, such as creating a new position, Secretary of Technology and a Department of Technology, which was meant to help regulate the growing tech and artificial intelligence boom. Additionally, he supported automatic income tax filing and non-interventionist foreign policy.
Vox traced the momentum of Andrew Yang's campaign to his appearance on the wildly popular podcast, the Joe Rogan Experience; although he supported left-leaning policies, he had a knack for reaching typically right-wing voters and connecting with them.
Although he did not win the 2020 presidential election, that did not stop Andrew Yang from pursuing his political aspirations — instead, he ran for Mayor of New York.
In 2021, Andrew Yang began his mayoral campaign in New York, with The New York Times noting that he was somewhat of an unorthodox contender for the position. Although Andrew Yang was able to connect with the youth voting block in his presidential campaign, that demographic is less relevant to mayoral campaigning.
Other New Yorkers worried that he wasn't "a New Yorker" in essence, calling out a campaign tweet where he voiced his support for bodegas while purchasing goods from an establishment that many New Yorkers did not consider to qualify as a bodega.
Andrew Yang took the criticism in stride, later following up the original tweet with a simple message for voters, "Haha I love New York."