Who hasn't heard of the one-time Canadian bad boy, Justin Bieber? Now he's married to Hailey Bieber (nee Baldwin), but his start didn't come from Hollywood connections.
Justin Bieber's first song was 'One Time' which was released on May 18, 2009. He got his big break at the meer age of 13 when Scooter Braun stumbled across his YouTube page. Braun tracked Bieber down to his family's home in Stratford, Ontario, Canada in order to convince his mom to let him take Justin Bieber to pursue a singing career. 
You can read more about Justin Bieber's life in Canada, being discovered, and the release of his first album.
J. Bieb's Canadian Roots
If you are from the GTA aka the Greater Toronto Area, then you probably know where Stratford is because of its well-known Shakespearean festival called The Stratford Festival. If you're not from Southern Ontario, you probably have no idea where Stratford is unless you're a fan of Justin Bieber… or a big-time Shakespeare fan.
Growing up, Justin was a complete natural at music, and by the time he was discovered he could play four different instruments. As this Toronto Star article highlights, he would often hangout and the Long & McQuade Music Store as he plays drums, trumpet, guitar, and piano.
It was also during his childhood in Stratford that Justin Bieber learned how to play hockey, which can probably be said of at least 50% of Canada's population. He actually had the chance to play in the 2017 NHL All-Star Game Celebrity Shootout.
J. Biebs even grew up a Toronto Maple Leafs fan because Stratford is about a two-hour drive from Toronto.
It is pretty clear that he still holds his home of Canada in high regard because, after almost a decade of living in the United States, he moved back. It was after his marriage to Hailey Baldwin and hiatus from music to focus on his mental health that he returned to Canada.
In 2018, Bieber bought a $5 million mansion in Cambridge, Ontario, Canada, that overlooks Puslinch Lake. Cambridge is only a 50-minute drive from his hometown of Stratford.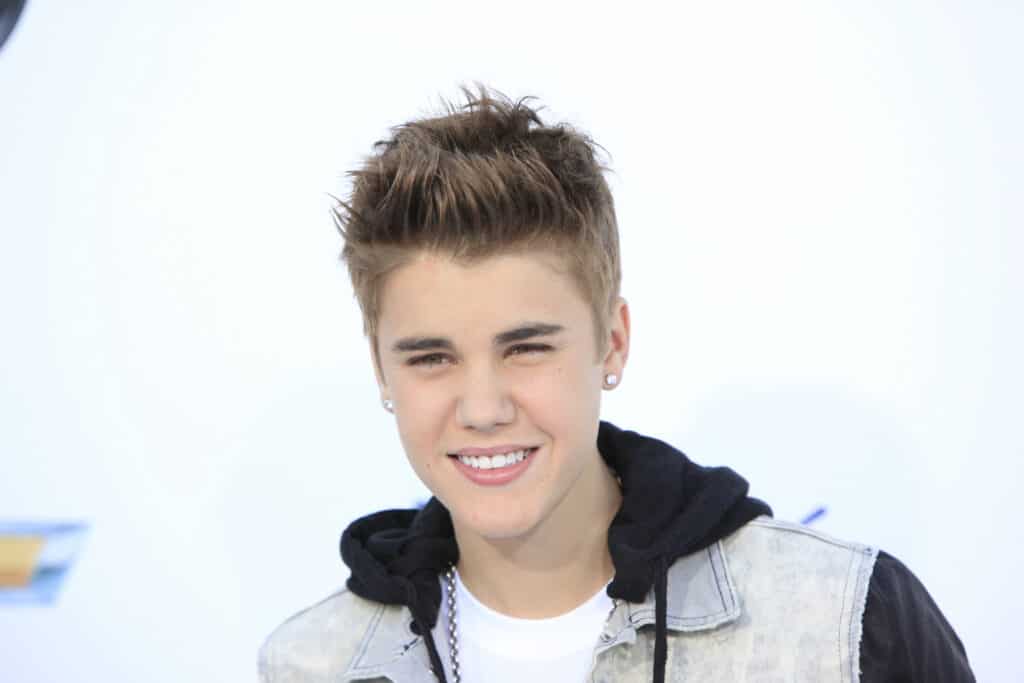 Justin Bieber Is 'Discovered'
It was in 2007, that Scoot Braun accidentally came across a video of Bieber singing at a competition in Stratford. His mom had put a video up on YouTube of Justin's performance and started posting more videos of Justin performing R&B songs.
She had no idea that the videos would attract a huge fan following online. That or an entertainment executive.
Braun tracked down Bieber's family like the prince of a fairy tale and asked the Biebs mom if there was any way they could take him down to Atlanta, Georgia. After a lot of praying, Bieber's single mother was convinced it was the right choice for her son.
So it was that Biever flew down to Altlanta where he performed for Usher. Usher was blown away by Bieber's talent so he had the young Biebs perform for the CEO of Island Def Jam.
As this Reuters article points out, "Bieber signed with Island Records and RBMG, a label imprint on which Braun and Usher are partners." After that, Bieber recorded his very first single 'One Time' which peaked at 17 on the Billboard Hot 100. 
Justin Bieber's First Album
His debut single 'One Time' was released on May 18, 2009, and was the lead into his debut album. That album was an EP titled My World.
My world was released on November 17, 2009, and compared to its lead single, it did much better on the charts. Having a song peak at number 17 on the Hot 100 when you're only 15 is an amazing feat.
However, being 15 and having your very first album, which isn't even a full-length album, peak at number 5 on the Billboard 200 is an even bigger success. And, that is exactly what Bieber's My World did.
On top of that, the album was able to peak at number one on the charts in his home country of Canada. The album went platinum in the US, Norway, and Germany, and double platinum in Canada and the UK.
However, it wasn't until 2015 that Justin Bieber was able to have any of his songs hit the number one spot on the Billboard Hot 100. It was his song 'What Do You Mean?' that broke that wall for him.