Elton John is an English singer, songwriter, pianist, and composer who has sold over 300 million records. He is one of the best-selling music artists of all time and has dominated in both US and UK music charts. Elton John has received five Grammy Awards, five Brit Awards, two Academy Awards, and two Golden Globes.
Elton John revealed that he was bisexual in the October 7th, 1976 issue of Rolling Stone magazine. He had been avoiding the question for some time, before finally deciding to go public with his personal life and agreed to announce his bisexuality.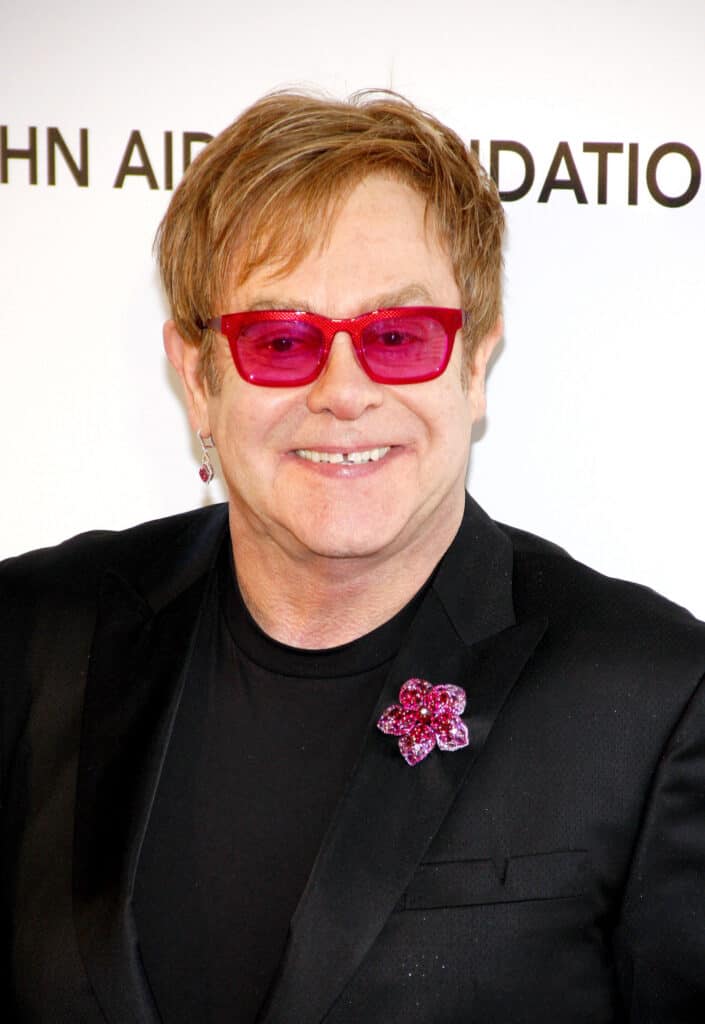 Despite hiding his sexuality for some time, Elton John admitted he was bisexual in 1976, and later, admitted to being gay at age 45 in 1992. He realized he was gay when he was 23 years old and married his husband, David Furnish, in 2014 when the same-sex marriage had become legal in England.
Elton John's Beginning in Music
It is no secret that Elton John is one of the biggest music icons with his unique mix of pop and rock. He stands out among other artists and has sold over 300 million records throughout his music career.
Elton John has been musically gifted from a young age and discovered his passion for music earlier than most. He taught himself how to play the piano at only four years old, and later his musical talents became very apparent when he won a scholarship to a youth program at the Royal Academy of Music in London, England.
Sources say that one of his biggest pushes towards music was due to his challenging relationship with his father, as the two oftentimes fought over Elton's future career. His passion for early rock and roll, along with pop, was so strong that he decided to drop out of school at the age of 17 to pursue a music career, much to his father's dismay.
In 1967, John applied for a songwriting position for Liberty Records and before he knew it, he actually got the job. He began writing songs for a few different recording artists with lyricist, Bernie Taupin.
The duo decided to write their own song, "Empty Sky", and it later became Elton John's debut as a singer. Although it didn't reach a lot of people, Elton decided to continue making his own music, and it eventually did pay off as his singles became more and more popular.
In 1973, Elton John's album, "Goodbye Yellow Brick Road", became a top hit, with some of his other singles reaching number 1 on top charts.
He was a memorable figure in his 1970s live shows, as he dressed in over-the-top costumes to grab people's attention. Elton John wanted people to look at him and the people did just that.
Elton Publically Announcing His Debut As a Bisexual Man
In 1976, Elton John came out with the song, "Don't Go Breaking My Heart", which dominated top charts and became a smash-hit in the US and the UK.
He decided to take a break from music in order to focus on the soccer team he co-owned, and his announcement of being a bisexual man led him to be ridiculed. He had been avoiding the question for some time, but Rolling Stones freelancers, Cliff Jahr and Ron Pownall had been persisted in getting answers out of the singer.
Elton officially announced his coming out as a bisexual man in the October 7th, 1976 issue of Rolling Stones magazine.
It was apparent that people were quite stunned by the news, with sales of Elton John's music suddenly dipping as a result. After a short period of time, the controversy did die down, and Elton made a return to music in 1979.
The Singer's Husband and Sons
Elton John met David Furnish at a dinner party in 1993, and the couple got married in a civil ceremony on December 21, 2005. Ecstatic about being able to be joined together due to the Civil Partnership Act, the couple had announced themselves as a married pair, despite more controversy in the media.
The pair had welcomed their first son into the world with the help of a surrogate in 2010, and their second son in 2013.
On December 21, 2014, Elton John and David Furnish were able to legally get married after gay marriage laws had come into effect in England.
Elton John continues to make music with the support of his family and fans, along with being an advocate for a number of different charities and organizations.