Steve Harvey has been the host of the family game show Family Feud for over two decades now. So where did he spend his childhood with his family?
Steve Harvey grew up in Cleveland, Ohio. He was born in Welch, West Virginia but his family moved to Cleveland when he was a young boy. He grew up on 112th Street, which was renamed Steve Harvey Way by Cleveland Mayor Frank Jackson in 2015. Harvey even attended Ohio's Kent State University.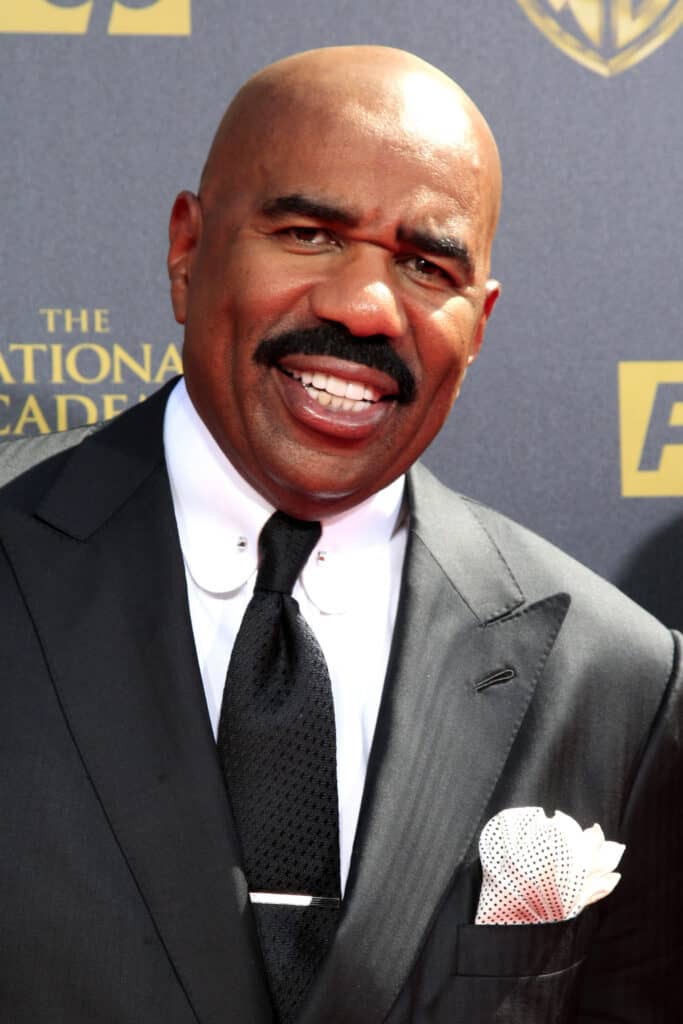 Scroll down to read more about Steve Harvey's life in Cleveland, his time at Kent State University, and how he continues to show he's a true Clevelander at heart.
Steve Harvey's Life in Cleveland
Steve Harvey was actually born Broderick Stephen Harvey on January 17, 1957. He was born in Welch, West Virginia, but his parents moved the family to Cleveland.
Although the family lived in Cleveland, Steve spent a lot of his childhood in West Virginia to visit his grandfather who still lived there.
In Cleveland, the family lived on the road known as East 112th Street. His mother, Eloise Vera Harvey, was a Sunday School Teacher and the family was very strong in their faith.
His father, Jesse Harvey, was a coal miner. Steve was one of four children born to his parents.
Growing up in Cleveland wasn't exactly easy. The Harvey family didn't have much in terms of wealth but they had each other.
In an interview with 3News, Steve Harvey said that he missed the grittiness of Cleveland. He even said that he owes his success in Hollywood and the entertainment industry to growing up in Cleveland.
Stating that "We survived some mayors, we survived the river catching on fire, we survived the flats, we survived us closing at a steel mill all of the auto [mills]. I used to work at the Ford Motor Company out in Brook Park, I mean you know we survived all that."
When Steve was growing up, he attended Glenville High School, which he also attributes to helping him move towards success. He has said it was a tough school and that made him tough.
This could be in part due to the fact that he had a speech impediment growing that caused him to have difficulty pronouncing the letter 'v.' As a result, other kids at school nicknamed him 'Va-Va-Voom'
Despite the tough gritty world that was growing up in Cleveland for Harvey, he still graduated high school.
Harvey's Time at Kent State
After graduating high school, Steve Harvey was accepted into Kent State University. Kent State is located in the city of Kent, Ohio, which is southeast of Cleveland.
While attending Kent State, Harvey joined the fraternity Omega Psi Phi. However, he failed to graduate from the university and returned to Cleveland before choosing to attend the University of West Virginia.
Even though he never graduated from Kent, Harvey has still shown support for the students at the school.
In June 2019, he awarded scholarships to eight freshmen students at the University. The Steve & Marjorie Harvey Foundation would be providing full-ride scholarships that would renew each year as long as the students maintain a 2.5 GPA.
Harvey wanted to give something back to the school after the death of Devin Moore who died while playing basketball at Kent State's Student Recreation and Wellness Center in 2017.
Moore was a member of the same fraternity Harvey attended.
Steve Harvey even flew the eight students out to Los Angeles so that he could meet and interview them on his talk show Steve.
Watch the below video to see Steve Harvey talk about Kent State and introduce the students he provided scholarships to.
Steve Harvey is Still a Clevelander at Heart
Although he lives in Los Angeles, Steve Harvey is still a Clevelander at heart. And this isn't only through his support of university students.
When the city changed the name of his childhood street, E 112th Street, to Steve Harvey Way, Harvey was overtaken by emotions. He teared up a bit.
Steve Harvey is also a huge fan of the NFL team the Cleveland Browns. When the team revealed new uniforms in April 2020, Harvey posted a video of himself getting excited about the new uniforms.
He even said he was sure they would make the playoffs with these new uniforms. Harvey wasn't wrong either, the Browns got a wildcard spot in the 2020-2021 playoffs.