American politician and entrepreneur Andrew Yang is best known for his policy proposal of a universal basic income and his 2021 run for Mayor of New York City. Does he actually live in the big apple?
Andrew Yang lives with his family in an apartment in Manhattan, New York City. However, Andrew Yang also owns a second home in New Paltz, which is in upstate New York, not the city itself.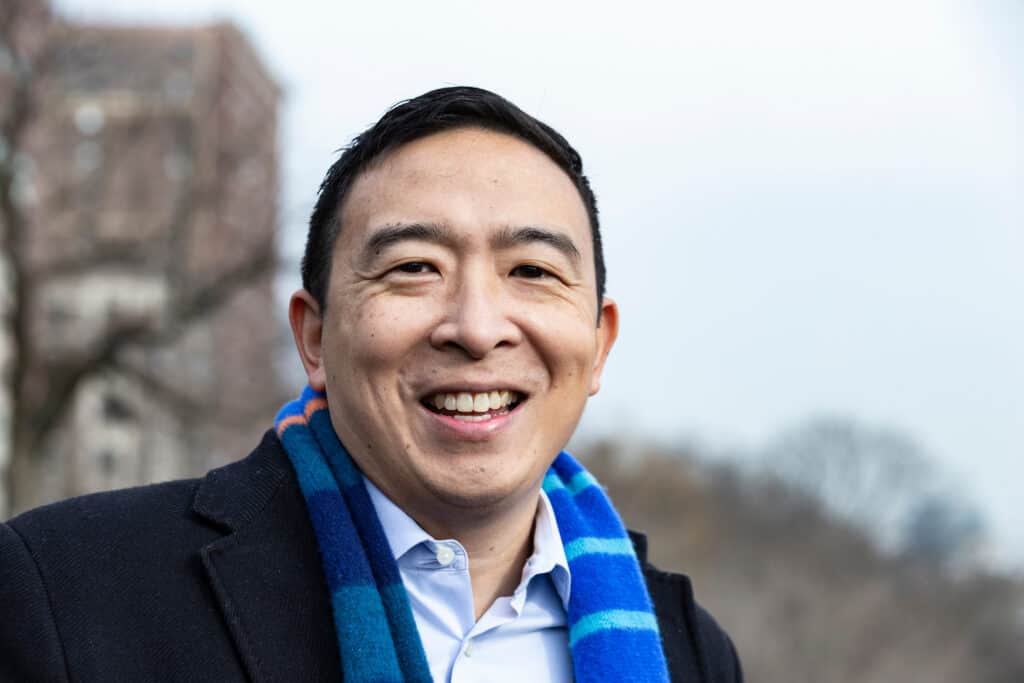 This second home has been the source of some contention among potential constituents during his mayoral campaign, primarily due to the fact that during the surge of COVID-19 cases in the city in 2020, Andrew Yang opted to stay upstate instead of in town. So, what does his NYC apartment look like — and what does his campaign look like?
Apartment in NYC and Life Upstate
Andrew Yang lives in a Manhattan apartment. However, he also owns a home in upstate New York.
This distinction became a point of contention during his 2020-21 mayoral campaign for two reasons.
The first reason was due to his absence from the city that Andrew Yang intends to govern during the coronavirus crisis. Instead of staying in New York City proper, Andrew Yang and his family opted to stay in their larger home upstate, near the Hudson Valley area.
Andrew Yang's potential constituents found an issue with the candidate staying in more comfortable lodgings whilst they were roughing it in the city. However, Andrew Yang's answer provided more questions than answers for the people of New York.
The New York Times reported that Andrew Yang chose to stay upstate instead of in town because it was hard for his family and himself to work from home in a two-bedroom apartment. So, they opted to stay in their family's four-bedroom home in New Paltz, N.Y., according to Politico.
When asked to comment, Andrew Yang asked what he believed to be a rhetorical question. "Can you imagine trying to have two kids in virtual school in a two-bedroom apartment and then trying to do work yourself?"
However, many New Yorkers responded that they could as many people stayed with multiple generations under one roof, all trying to work and attend school from home.
Many are taking this as a larger sign of Andrew Yang's mayoral campaign. So, what does his actual campaign for mayor of New York look like?
New York Mayoral Campaign
Andrew Yang announced his campaign for mayor of New York in the 2021 election campaign through a video titled "Why I'm Running."
In the video, he declares his love for the city where he, in his own words, came of age, fell in love, and became a father. The video includes shots of Andrew Yang eating a typical New York slice of pizza, trying out tricks on a skateboard, and discussing his 2020 presidential campaign.
Although Andrew Yang's campaign may have stumbled in a few spots, such as the move upstate and his choice in bodegas, he is one of the frontrunners in the campaign.
Politico reported that Yang was still the Democratic frontrunner for the mayoral position as of February 2021.
Politico quoted Andrew Yang's co-campaign manager, Chris Coffey, as he commented on Yang's campaign so far. "Andrew is authentic and he is not a career politician. And that means that he is not always going to be on script."
Andrew Yang may not be on the script all the time; however, he has achieved ubiquity within the campaign and name recognition. New York political campaigns are tough, and the scrutiny can be intense, but Yang has jumped one of the main hurdles of recognition, which has to count for something.
2020 Presidential Campaign
One of the reasons that Andrew Yang has managed to achieve this name recognition is his earlier 2020 presidential campaign, where he ran as a Democrat.
Although Andrew Yang lost the nomination, as Democrat Joe Biden was eventually elected President, he still made waves with his unconventional campaign.
One of the main platforms that Andrew Yang ran on in 2020 was his call for a universal basic income. He posited the possibility of a Freedom Dividend, which would give $1,000 a month to each American adult to boost the economy.
In his mayoral campaign, Andrew Yang called back to his economy-centric presidential platform as he spoke about how he as an entrepreneur could aid small businesses in challenging times.