The Canadian crooner and a famed buddy of Santa Claus, Michael Bublé, is as much of a holiday staple as mistletoe and tinsel. So where does the "Feeling Good" singer spend his time when he isn't belting out ballads?
Michael Bublé lives in Burnaby, British Columbia, in his home country of Canada. The singer-songwriter lives on a gorgeous compound with his wife, actress, and singer Luisana Lopilato.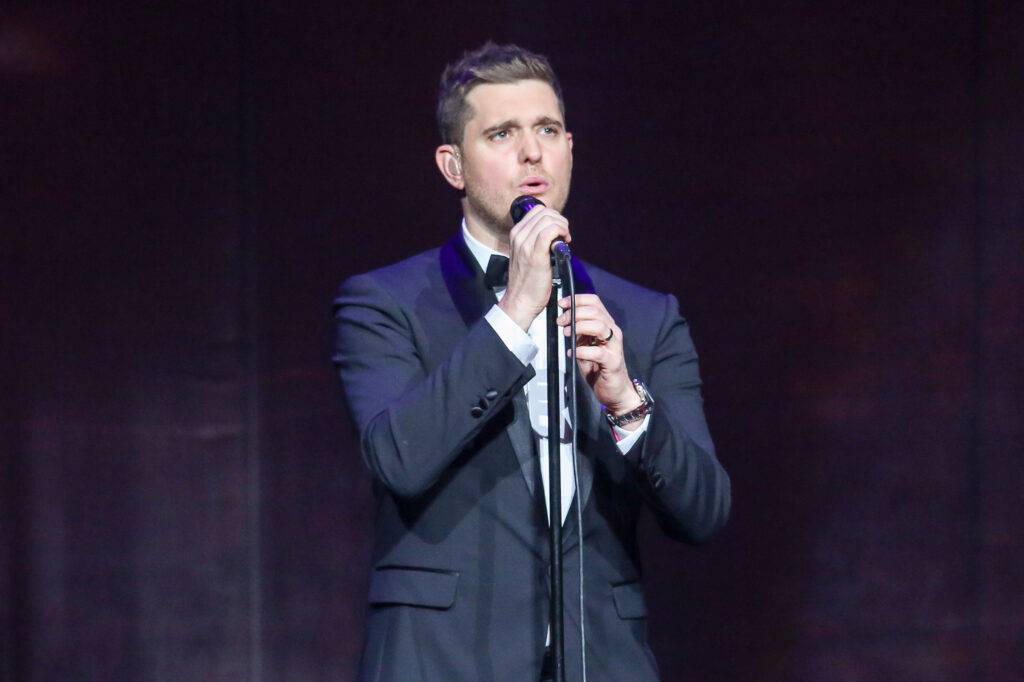 Although he currently lives in a massive mansion, Michael Bublé actually still lives close to home: he grew up in Burnaby, British Columbia. In fact, he stayed true to his roots as he dreamt of being a singer from a young age and is now an incredibly prolific musician.
Home in Burnaby, British Columbia
The Vancouver Sun reported in 2018 on the nearly-complete construction of Michael Bublé's mansion in Burnaby, British Columbia.
Although it is now complete, the home made waves when construction began in 2016.
CBC News Vancouver reported that the home, which is actually across the street from Michael Bublé's elementary school, ruffled some feathers in the neighborhood due to the height of the walls surrounding the property.
Clearly, Michael Bublé's star power would garner attention on its own, and due to this star power, he wanted privacy for his dream home project.
However, this desire for privacy actually drew more attention to Bublé, as the wall built around the property was eight feet high, more than double the height of the wall or fence that is typically allowed in Burnaby.
Michael Bublé's architect argued that an exemption should be made for Bublé, as the wall would be necessary for security purposes; they also argued that the wall's height would be offset by hedges and landscaping.
However, as the Vancouver Sun reported, once the construction was completed, Michael Bublé's neighbors said that they genuinely liked the way that the home looked and didn't mind the walls.
One Burnaby resident commented, "I know it's very large in square footage … but it's all very low, and the landscaping and the hedges have all been really well done."
Clearly, Michael Bublé's architect knew what they were talking about.
In addition to the walls surrounding the home, the property features a tennis court and a swimming pool. Michael Bublé had previously mentioned a desire to build a hockey rink in the basement of the home, a truly Canadian idea.
The home is valued at a whopping $11.8 million and has seven bathrooms and fifteen bedrooms. It sits on 2.3 acres of land.
Early Life and Musical Career
Michael Bublé chose to live in the same town where he grew up. So, what was his childhood like?
Well, he learned to love classic crooners from an early age. Michael Bublé had a very close relationship with his grandfather, who introduced him to musicians from the 1940s and 1950s, kicking off his love for music.
Hello! Magazine quotes Michael Bublé as saying, "My grandfather was really my best friend growing up."
Surprisingly, despite his passion for signing, Michael Bublé actually began in a different career path; he worked alongside his father as a salmon fisherman.
However, Michael Bublé stayed true to his love for music and continued to perform wherever he could, including cruise ships and in singing competitions.
Even Michael Bublé's big break was ubiquitously Canadian.
He was performing at a gig in Toronto, Ontario, when the then-prime minister of Canada, Brian Mulroney, noticed Michael Bublé's unique vocal skills. Mulroney then introduced Bublé to Canadian musician and composer David Foster.
Since then, Michael Bublé's career has skyrocketed. He has even been compared to famous singers such as Dean Martin and Frank Sinatra for his crooning tunes.
After that meteoric rise to fame, Michael Bublé went on to become an incredibly prolific musician, releasing eight major-label studio albums, including his best-selling album of Christmas songs, the aptly-titled "Christmas."
In fact, the album became so popular that Michael Bublé became almost synonymous with the holiday, with the NewStatesman even declaring that he had become "the soundtrack to Christmas."
However, Michael Bublé does indeed have non-holiday songs and albums, including his 2018 release, "Love," which was full of the singer's typical romantic stylings.
Upon its release, the album received massive commercial success, debuting at the second spot on both the US and Canadian charts. It was well-received by critics, such as the Independent, which gave "Love" four stars out of five, and incredibly well received by every mom in Canada (probably).