Country music legend Willie Nelson has both a storied life and career in the entertainment industry, although it's arguably impossible not to have the latter without the former. In any case, Willie Nelson has lived a long life full of accomplishments, but where did the musician decide to settle down?
Willie Nelson lives in Spicewood, Texas, on a beautiful sprawling 800-acre ranch estate. He also has a second home in Maui, the Hawaiian island.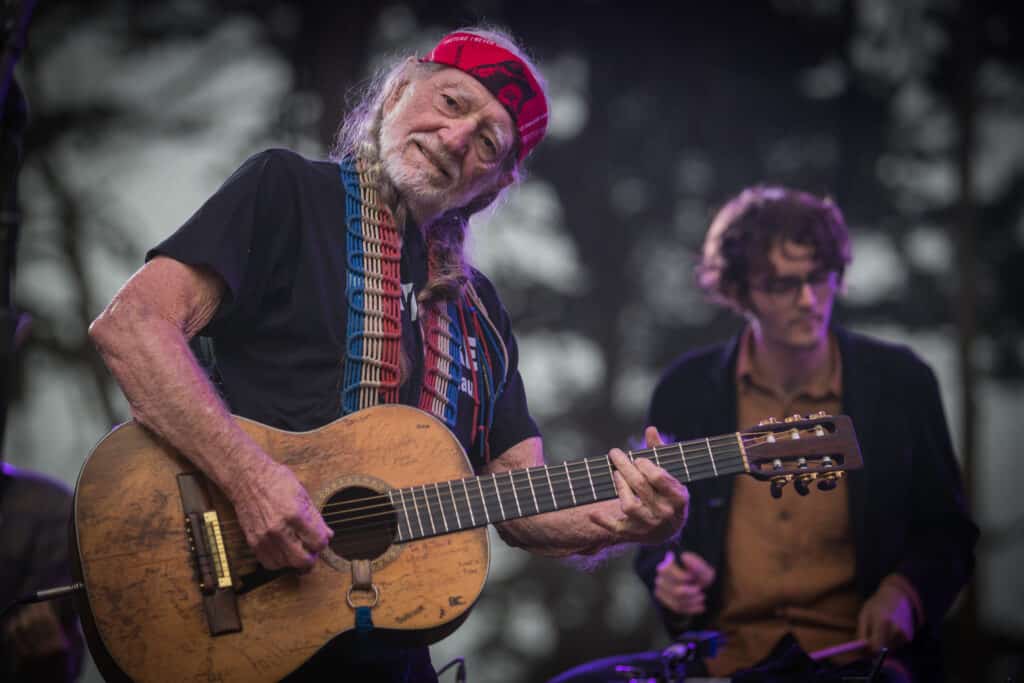 Willie Nelson is one of the most beloved figures in American pop culture, both for his outlaw country music career and his political activism. This country singer sure doesn't have the blues, but he does have some beautiful homes.
Home in Texas; Rescuing Horses
Willie Nelson acts with compassion in almost every aspect of his life. So, it makes sense that his residence is not just a home for himself but a ranch for rescue horses to live out full, happy lives.
Willie Nelson's 700-acre ranch in Spicewood, Texas, is affectionately known as "Luck Ranch."
That's due to the 70-odd, lucky horses that are allowed to roam free on his property. Willie Nelson often saves these horses directly before they are sent to the slaughterhouse or rescues them after decades of abuse and neglect.
Madly Odd quotes Willie Nelson as saying about his "Luck Ranch" horses, "My horses are probably the luckiest horses in the world. They get hand-fed twice a day, and they were just ready to go to slaughter is probably the last thing they remembered, so they're happy horses."
In this interview with KSAT 12, Willie Nelson offers fans a glimpse of his Luck Ranch.
Although he has a beautiful ranch in Spicewood, Texas, Willie Nelson still spends many hours on the road, touring, and seems to enjoy the traveling life greatly.
Rolling Stone profiled the legendary musician when he was 85 after he had briefly taken a break from touring due to illness and was ready to head back on tour.
Willie Nelson was as sharp as is to be expected for someone who's labeled himself CTO (Cheif Tasting Officer) of his very own legal cannabis company, Willie's Reserve, saying, "Sometimes I forget lyrics to new songs or whatever, but normally I can remember them pretty good."
Life in Maui
When Willie Nelson is not spending time with his horses on Luck Ranch or touring, he owns property in Maui.
The country singer's love for the Hawaiian island is not a secret, as he crooned on his 1992 song, "Blue Hawaii," "Lovely you/ And blue Hawaii/ With all this loveliness/ There should be love."
If you ever find yourself in Maui and want to have the true Willie Nelson Hawaiian experience, Charley's Restaurant & Saloon is the place to be.
The restaurant is owned by a close friend of Nelson's, and he has been known to drop by and play his songs for the patrons there.
In addition to simply loving the beautiful island, he has been known to act on this love in surprising ways. In 2018, Willie Nelson participated in a student-led rally to end gun violence, demonstrating that he is not just living in Maui for vacation purposes but that he is actively engaged in his life there.
Political Activism and Business Ventures
In fact, Willie Nelson is known for his activism, particularly his actions to fight for the legalization of cannabis.
He campaigned for over four decades with the National Organization for the Reform of Marijuana Laws (NORML) to open up American drug policy to the option of cannabis, and once the tide shifted in the laws, he capitalized on the possibilities.
In an interview with The Guardian, Willie Nelson joked, "I've bought a lot of pot, and now I'm selling some back."
Willie Nelson opened up Willie's Reserve, a cannabis business with products grown by independent farmers.
This support of independent farmers goes back decades to Willie Nelson's benefit concert, "Farm Aid." Farm Aid first began as a benefit concert in 1985 with the aim of helping small family farms and independent agriculture.
In addition to these causes, Willie Nelson is a proud supporter of the LGBTQ+ community, even releasing a cover of the gay cowboy song, "Cowboys Are Frequently, Secretly Fond of Each Other." Willie Nelson has also invested in bio-diesel, which is a plant-based alternative to fossil fuels.
Willie Nelson's life outside of music, including his homes, just goes to show that there is much more to the man than what meets the eye.