Who could ever forget the line 'I hope you don't mind, I hope you don't mind' from Elton John's hit 'Your Song,' so who is it about?
Elton John's 'Your Song' is about an unknown person who inspired Bernie Taupin to write about what he thought it would be like to be in love. Taupin is Elton John's long-time lyrical collaborator and 'Your Song' was the signer's first smash hit. It was what started Taupin and John's successful working relationship that has lasted decades.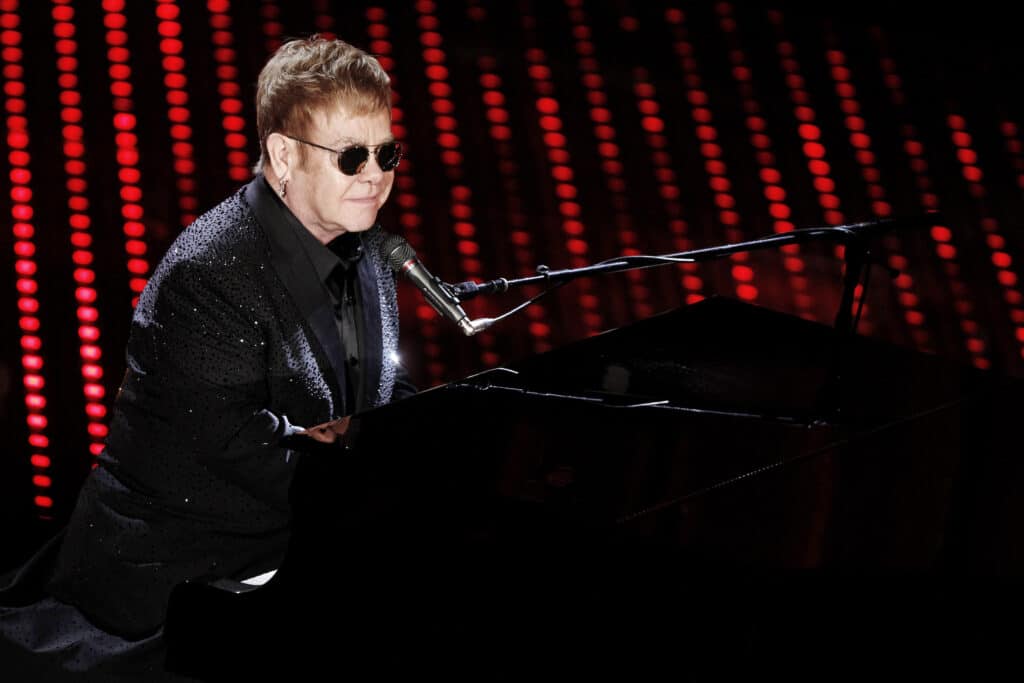 Scroll down to read more about how Bernie Taupin and Elton John met, how they wrote 'Your Song,' and its success.
Elton John & Bernie Taupin Meet
Similar to Elton John's biographical musical Rocketman, Elton John and Bernie Taupin met in 1967 when both responded to an ad in the magazine NME. The ad was from Liberty Records.
Liberty was searching for singer/songwriter artists to potentially hire to create songs. Taupin was a 17-year-old from Lincolnshire who wrote deep lyrics but had no musical talents.
Elton John, who still went by Reg Dwight at the time, was a talented musician who struggled to compose his own lyrics. Liberty Records ended up providing Elton John with a fold of Taupin's lyrics to compose music in hopes that they would be a creative duo.
Liberty ended up being correct in that decision.
Before Elton John and Bernie Taupin ever even met, they had composed twenty songs together. The interesting thing about their working relationship was that they never worked together in the same room.
Bernie would always write the lyrics and then Elton John would go and compose the music to those lyrics separately.
Initially, the pair worked for Liberty by composing songs for other artists. It wasn't until two years later that they worked to put out Elton's first album, Empty Sky.
While John has fond memories of making Empty Sky, he has said that he finds it naive. It was not even close to as successful as subsequent albums.
Bernie Taupin & Elton John Create 'Your Song'
With Empty Sky's failed success, John and Taupin didn't give up on the dream of being massively successful artists. In fact, they were even more motivated.
They followed up Elton's first album with a second album only a year later in 1970; it was titled Elton John. It was on this album that 'Your Song' appeared.
The lyrics to the song were originally written by Bernie Taupin at Elton's mother's house. He had sat down at the kitchen table for breakfast and the lyrics flowed through his mind; the original lyrics even had tea stains on them.
John then took Taupin's lyrics into the piano room and proceeded to create the melody of the song. He did it in 20 minutes.
You can watch Elton John performing 'Your Song' on Top of the Pops on January 14, 1971, in the below video.
Bernie Taupin has eluded to the fact that the song was about someone who he thought he loved but was too young to know better. Who that person was is not known by anyone, not even Elton John.
In 1989, Bernie Taupin told Music Connection (reported via Rokritr) that this song "has got to be one of the most naïve and childish lyrics in the entire repertoire of music, but I think the reason it still stands up is because it was real at the time… I was 17 or 18 years old and it was coming from someone whose outlook on love or experience with love was totally new and naïve."
'Your Song' Is a Massive Success
The song that Bernie Taupin recalls as being very childish ended up being Elton John's first massively successful song. While he had trouble catching the attention of mainstream British listeners, he was an instant success in the United States.
'Your Song' entered the Billboard Hot 100 in late 1970 and peaked at the number 8 position on January 23, 1971.
Even though they were having trouble wooing British listeners, there were some Englishmen who loved his music. One person, in particular, was John Lennon of The Beatles.
In a 1971 interview with Rolling Stone, Lennon said that he listened to John's music. He had also previously said the Elton John's music was refreshing and a step forward for the music industry.
Since its creation, 'Your Song' has been covered by tons of other artists including Rod Stewart, Ellie Goulding, and Lady Gaga. It was even sung by Ewan McGregor in the 2001 film Moulin Rouge.