Rihanna is known for many things: chart-topping tracks, distinctive style, her involvement in humanitarian causes, her many entrepreneurial ventures, and her flawless makeup. While she has achieved all of that on her own, she has a little help with that last one.
Priscilla Ono is Rihanna's go-to makeup artist. On top of being RiRi's go-to makeup gal, the Latina makeup artist is the Global Makeup Artist for Fenty Beauty and has her own range of makeup brushes and teaches makeup courses. Her client list is the stuff dreams are made of.
So, who is the brains behind the looks dished up in the Mattemoiselle campaign, Rihanna's looks for her holiday party and Jay-Z's concert as well as the London launch of Fenty Beauty? Priscilla Ono, of course! To find out all about this incredible makeup artist, her enviable client list, and how she came to be Rihanna's makeup artist, keep reading.
Who is Priscilla Ono?
Priscilla Ono was born in California on 21 February 1984. She was raised by first-generation Mexican grandparents who wanted her to become a lawyer or a member of the medical field.
In an interview with Pop Sugar, she cites her grandmother as her biggest beauty inspiration and spoke about how she used to sit in the bathroom and watch her grandmother's makeup routine from start to finish. Later in the afternoon, when her grandmother was away, she would sneak into the bathroom and attempt to recreate the looks.
This was her routine for years, and by the time she got to high school, she was everyone's favorite eyeliner-applier. When she was 20, and studying a completely unrelated subject, she assisted her now-husband on a music video shoot and dropped out of college that same day.
Her grandmother was extremely disappointed and didn't speak to Priscilla for two whole years until she saw her giving makeup tips on a Spanish morning TV show. Priscilla has come a long way and credits her upbringing as the key to her success.
What's In Priscilla Ono's Makeup Kit?
Naturally, Priscilla Ono's makeup kit is full of Fenty Beauty products. She owns every single Fenty foundation and concealer and has triples of Rihanna's shade, 340, on hand at all times.
Her kit contains Match Stix — with Mocha and Truffle being her go-to shades for Rihanna — as well as Gloss Bomb lip glosses, Invisimet Blotting Powder, the Moroccan Spice palette, Pro'Filter Foundation, and much more.
When she posts pictures to her Instagram account, Priscilla always lists each and every product used to create her looks.
How Priscilla Became Rihanna's Makeup Artist
Being Rihanna's makeup artist would be a dream come true for many aspiring makeup artists. So just how did Priscilla Ono end up bagging one of Hollywood's hottest celebrities as her client?
Speaking to Elle Canada, Priscilla relays their meet-cute in detail. She explains that she was on set for Rihanna's S&M music video doing the makeup for the video's extras and Rihanna approached her directly.
Rihanna said to Priscilla "Oh my God, you're so cool, I love your style, I love your makeup" and asked her if she wanted to appear in the music video. From there, the pair became friends and Rihanna often invited Priscilla to do the makeup for photoshoots that she directed.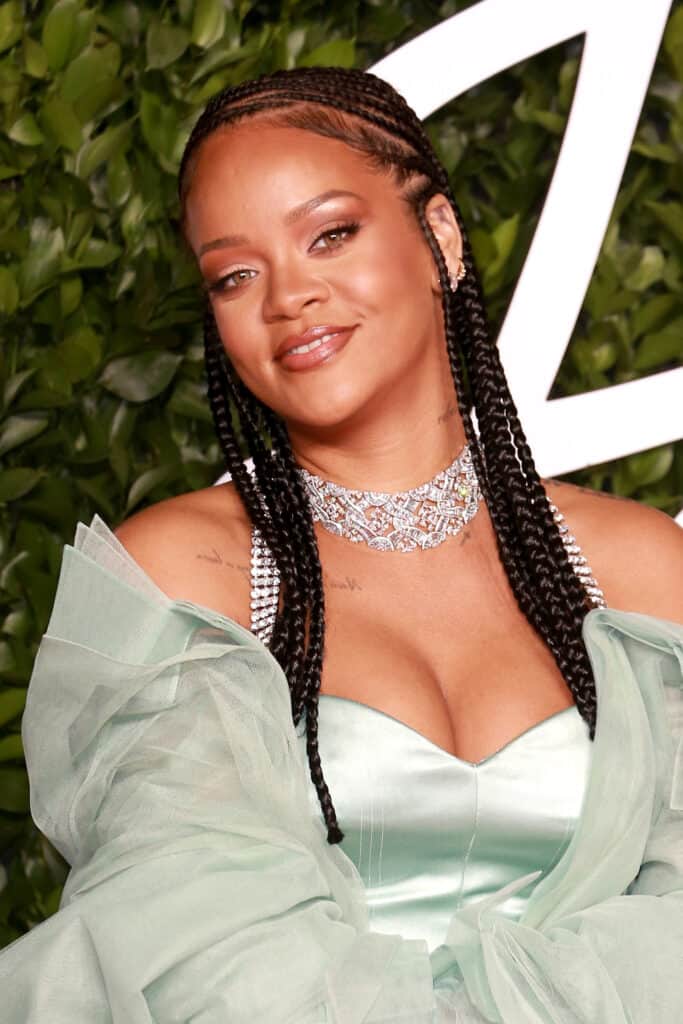 When word about Rihanna's plans to create a makeup line hit the streets, Priscilla reached out to the Creative Director and offered her services. The Creative Director invited her, along with 3,000 other hopefuls, to apply for the position of Global Makeup Artist.
Two months later, Priscilla was one of three hopefuls left and finally got the chance to do Rihanna's makeup. Priscilla got the call the next month and immediately started working on the looks for the Mattenmoiselle and Moroccan Spice campaigns.
These days, Priscilla is the trusted makeup artist for Fenty Beauty, Fenty Wardrobe, Savage, and even Rihanna's personal events.
Priscilla Ono's Impressive Client List
Priscilla Ono's client list is long and varied. While being the Global Makeup Artist for Fenty Beauty takes up most of her time, she still manages to work her magic on famous faces.
Some of her clients include Iggy Azalea, Kelly Rowland, Amber Rose, Kristin Cavallari, Kat Graham, Paris Hilton, Carmen Electra, Sira, Dr. Dre, Snoop Dogg, and the members of Pussycat Dolls II.
Pricilla also lends her services to MTV, Elle, Cosmopolitan, The Source, Allure, GQ, Harley Davison, FUJI TV, Smashbox, Coca-Cola, Old Navy, Adidas, Forever 21, Warner Bros., and more.