Phil Mickelson is a pro-golfer with forty-four PGA Tour wins under his belt and has been inducted into the World Golf Hall of Fame. His prize winnings are second only to Tiger Woods, but he also enjoys several lucrative sponsorships.
Phil Mickelson is sponsored by well-known businesses such as Callaway, KPMG, Workday, Amstel Light and Melin. His sponsorship with Mizzen+Main includes stakes in the company. In 2018, Mickelson and business partner Steve Loy invested in thirty Reis & Irvy's frozen yogurt shops around San Diego.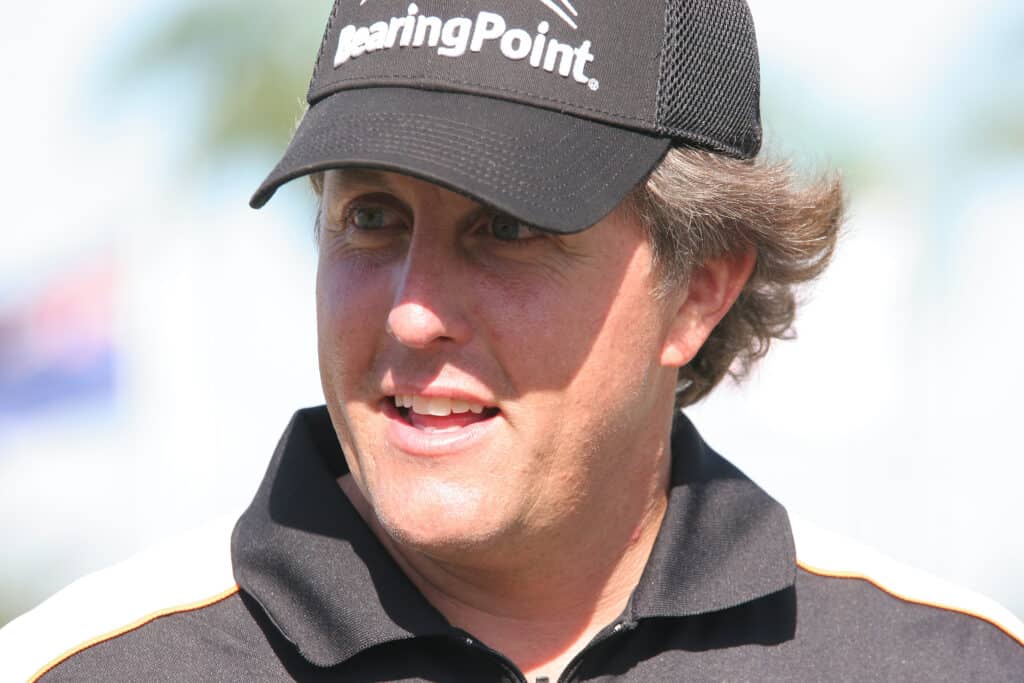 Mickelson makes a comfortable living and rakes in more than $40 million annually from appearances and sponsorships.
Destined for Greatness
Mickelson was introduced to golf at a mere 18-months-old. When his father noticed that he refused to switch hands and golf right-handed, he modified the club into a lefty's – Mickelson's nickname to this day.
In 1991, a 20-year-old Mickelson won the PGA Tour's Northern Telecom Open in Tucson. Since this legendary win, no other amatuer has won a Tour event.
Steve Loy, his college coach, caddied for him that day, and they have continued a partnership ever since.
Loy has been a trusted business advisor for most of Mickelson's career; he is now a joint-partner of a futuristic frozen yogurt franchise, Reis & Irvy's, within Mickelson's native San Diego.
Mickelson began his professional golfing career when he played in the 1992 U.S. Open, as well as another ten events the remainder of that season. His prolific career has spanned across several decades.
His career prize money stands at $91 million, second only to Tiger Woods. The majority of his money has been gleaned from sponsorships, from which he has raked in approximately $700 million.
Innovation on the Golf Course
Mickelson prides himself on shaking up the status quo on the course, as demonstrated by his 2018 sponsorship with Mizzen+Main.
Dubbed "the most innovative endorsement deal of his career" by ESPN, Mickelson inked a contract to play in the company's button-down, long-sleeve shirt, a step away from the typical short-sleeved golf T-shirt.
Mickelson agreed to the sponsorship for an undisclosed amount of shares within the company, as well as his lucrative deal.
The shirt caused a bit of a commotion on the green when he first started wearing them, but as Mickelson said to ESPN, "I like to be a trendsetter."
Later in the year, Mizzen+Main broke the internet with an advertisement featuring Mickelson dancing to a techno beat and dodging golf balls, with the tagline "Move Like Phil" underneath.
The video quickly went viral within the golf community and Mizzen+Main CEO Kevin Lavelle says the feedback has been largely positive.
"When we first announced we were working with him in May, the buzz was enormous," said Lavelle in 2018. "This blows all of that away."
Sharing His Wealth
Mickelson met his wife, Amy McBride, in 1992, while attending Arizona State college. They were married in 1996 and have three children together.
In 2004, the couple created the Phil and Amy Mickelson foundation, primarily focused on administering aid to youth and family initiatives.
"Family is our own number-one priority," Mickelson explained. "Both Amy and I benefited by being raised in our own strong, loving families and now we're fortunate and thankful to be in a position to help others strengthen their own family bonds."
Mickelson has also teamed up with PGA TOUR to create "Birdies for the Brave," a charity dedicated to showing appreciation and giving assistance to the men and women of the United States Armed Forces.
A Bright Future Ahead
In 2020, Mickelson opened his course design just outside of Calgary, the Mickelson National Golf Club.
"When this vision was re-ignited, Phil Mickelson was the first name that came to my mind," said course owner Barry Ehlert. "His attention to detail, his vision, his passion for strategic architecture, for spectator sight lines, angles, shaping, and so forth, was truly impressive."
Mickelson, nicknamed "Lefty" for his distinctive left-handed swing, is looking forward to continuing his career and breaking records across the board, all the while bringing his innovative style to the greens.
His dedication to the game hasn't faltered. Speaking of Mickelson, fellow golfer Harry Rudolph said, "People don't realize how much Phil has practiced and dedicated in his life to golf. He loves playing. And he's done that for a long time. People think it comes easy or that it comes natural. He works his butt off and has his whole career."
Clearly there is still much to look forward to from Mickelson as he continues his career!