David Cassidy was an American singer, songwriter, guitarist, and actor who is best known for his role of Keith Partridge in 'The Patridge Family'. He was a teen idol and later a heartthrob, who led a very busy love life that resulted in marriage — more than once!
Between the years 1977 and 1991, David Cassidy had been married a total of three times with each marriage ending in divorce. His first two marriages did not last long — seven and four years respectively — but his third marriage to Sue Shifrin lasted 24 years.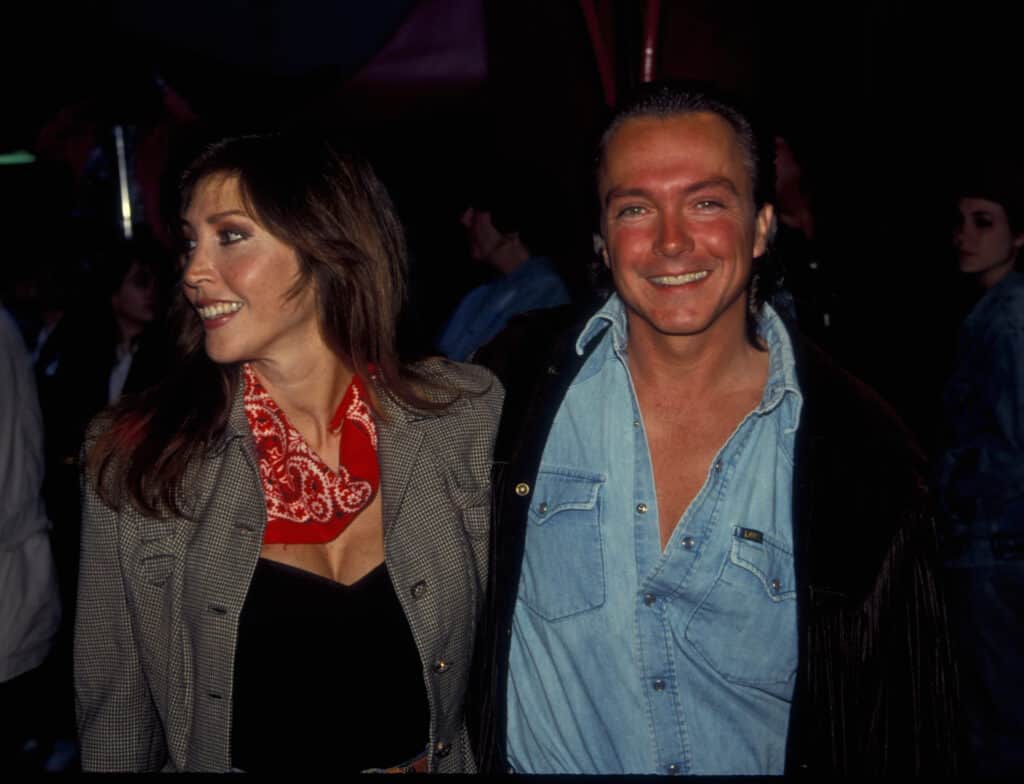 His trio of ex-wives are actress Kay Ann Lenz, horse breeder Meryl Tanz, and songwriter turned MLM executive Sue Shifrin. Let's find out more about these three women and their marriages — and subsequent divorces — to David Cassidy.
Who Was David Cassidy's First Wife?
David's first wife was a woman by the name of Kay Ann Lenz. Born in California, Kay was an actress from the tender age of six weeks old and got her big break at the age of 19, when she appeared in Clint Eastwood's romance film 'Breezy'.
Kay's career was blossoming when she met David shortly after turning 24 years old. Though nobody knows the specifics — like who set it up — it has been confirmed that they met on a blind date.
Two and a half months after their blind date, the pair wed on 3 April 1977. Things seemed to be going well but ultimately they divorced on 28 December 1983 and the rumor mill was set ablaze by the news.
It was widely reported that the reason for their split was David's drug use. But Kay has denied this on numerous occasions saying "I did drugs, everybody did. But they were never a problem for us."
Kay says of her ex-husband "I absolutely adored him. I wasn't used to that state-of-stardom lifestyle. When we eloped it was on the national news! All of a sudden I was getting mail from women telling me that they had three of his children."
Who Was David Cassidy's Second Wife?
On 15 December 1984, David was waiting at the bottom of the aisle for a second time. This time around, his bride was South African-born horse breeder Meryl Tanz.
David met Meryl in 1974, in Lexington, while they were at a horse sale. It was far from love at first sight and David said of their first meeting "Basically, she hated me."
While Meryl didn't hate David, she didn't connect with him as she was married at the time and David was surrounded by bodyguards. The pair bumped into each other on occasion over the years but it was in 1984 that their relationship changed into something more romantic in nature.
David told People that they saw each other at a pre-race party in Illinois and "Suddenly she and I looked at each other as if for the first time, and WHEW!"
Soon, the pair wed and for a while, they were living in wedded bliss. Unfortunately, David had an extramarital affair with Sherry Williams that resulted in the 1986 birth of his daughter, Katie Cassidy.
Meryl and David divorced on 22 May 1988, after just under four years of marriage. The reason for their divorce is not public knowledge, but many assume it was because of his affair.
Who Was David Cassidy's Third and Final Wife?
Even though neither of his first two marriages worked out, David did not give up on love. On 30 March 1991, David said "I do" for the third time.
His new wife was a lady called Sue Shifrin, who was a successful songwriter. The details on how they met aren't clear, but it's safe to say that this was David's most successful — or at the very least, long-standing — marriage.
The pair had one child together, a son named Beau Cassidy, and were married for 24 years before they filed for divorce in 2015 after separating four months before this. Their divorce was finalized on 27 April 2016.
As is the case with David's other ex-wives, the reason for their split is not known. However, what is known is the fact that this divorce led to David selling his South Florida home and declaring bankruptcy.