"Hi sisters!" That's James Charles's iconic catchphrase, which is often quoted online, but many people who hear the phrase may not know about the personality behind it.
James Charles is famous for being a YouTube personality, makeup artist, and the first male spokesmodel for popular makeup brand CoverGirl. He also collaborated with the makeup brand Morphe to create a popular eyeshadow palette in his name.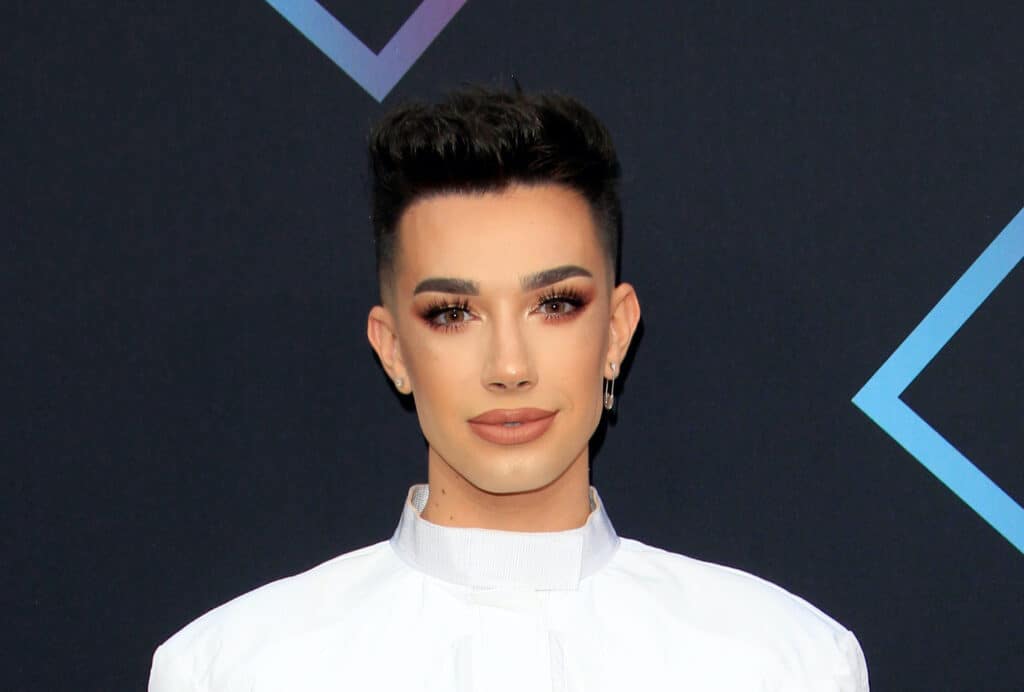 James Charles began posting on his YouTube channel in 2016 and has grown exponentially since then, becoming one of the most popular beauty gurus on the website with over 22 million subscribers.
YouTuber and Social Media Influencer
James Charles has focused on makeup since his first video tutorial on YouTube, posted on March 3rd, 2016. In the video, he explains to his audience how they can recreate the makeup look that he is wearing; a bold look with sparkly blue eyeshadow and dark brown lipstick.
In 2018, James Charles posted a new video on his channel in which he reacts to his first-ever tutorial, giving his past self some constructive criticism and talking with his audience about how much he had grown. The video has over 17 million views.
James Charles rose to fame very quickly.
He focused his YouTube channel on makeup, filming reviews of makeup brands, makeup look challenges, makeovers, and videos collaborating with other YouTube and makeup influencers such as Nikki Tutorials and Jeffree Star.
Although he is most known for his makeup looks, James Charles has also branched out and done other types of videos, such as personal vlogs (video blogs), clothing reviews, and unique fare such as ASMR (Autonomous sensory meridian response) videos.
James Charles has stayed true to the roots of his first YouTube tutorial and continues to do bold makeup looks, like the one below which he posted to his Instagram page:
Product Endorsements and Business Ventures
James Charles made history as the first male model for the makeup brand CoverGirl. This move prompted CoverGirl brand ambassador, pop star Katy Perry, to happily write on her Instagram, "Honored to have the pleasure to announce the very first COVERBOY, James Charles!"
He was 17 years old at the time.
The choice was controversial at the time, and groundbreaking, with James Charles suddenly becoming not only the face of CoverGirl but the face of a new wave of makeup artists that were pushing past traditional ideas about masculinity and gender.
James Charles explained his stance on makeup in an interview with Marie Claire. "It took a lot of thorough conversations to explain that it's an art form for me. I'm still confident as a boy and I will always be a boy. I can be confident with bare skin and with a full face."
James Charles also appeared on the popular daytime talk show, The Ellen Show, to discuss his thoughts on being the first CoverBoy.
He also has his own line of merchandise, called Sisters Apparel, a rainbow array of hooded sweaters emblazoned with his signature catchphrase.
Instant Influencer
James Charles has his own reality TV show called "Instant Influencer" where he attempts to find the next big beauty influencer; the show is available on YouTube Originals and also stars the president of the makeup brand Anastasia Beverly Hills, Norvina, and socialite, DJ, and star of the reality TV series The Simple Life, Paris Hilton, as judges.
Fan-favorite influencer, Ashley Strong, was announced as the winner of Season One after designing a final makeup look inspired by the famous streetwear brand, Off-White.
It's easy to compare James Charles' rise to fame with the title of his reality TV show – instant – and James Charles has gone on the record to talk about how such a rapid rise to fame at a young age has affected him. In interviews and vlogs on his YouTube channel, he has spoken about how fame has affected his mental health and dating life.
Although fame must be challenging to cope with for anyone, it has also given James Charles some exciting opportunities. In 2018, James Charles filmed a YouTube video with socialite and businesswoman, Kylie Jenner, in which he does her Halloween makeup.
It seems as if James Charles has had a meteoric rise to fame, going from working on his friends' makeup for school dances to working alongside some of the industry's most famous faces.
Who knows what is next on the horizon for the bold makeup influencer, but it seems a safe bet that he'll be looking into the future with gorgeous eyeshadow.