Jeff Bezos is a well-known businessman. He's thought to be worth over $160 billion, but how did he amass such a huge fortune?
The key to Jeff Bezos' wealth is Amazon. He founded the company back in 1994, and at the time focused on selling books.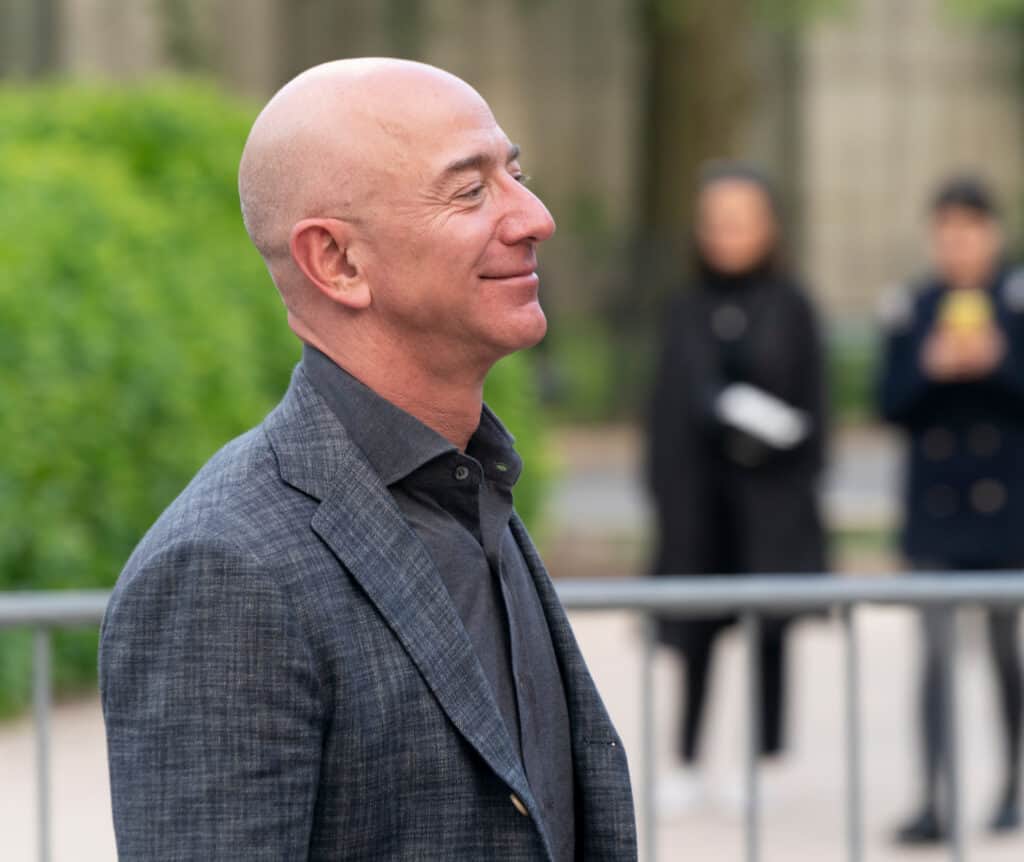 Read more about the life of Jeff Bezos and the story behind his incredible fortune.
The Rise of Amazon
In 1994, while working on Wall Street, Jeff Bezos founded Amazon Books. Abandoning his career was a risk he decided to take after noticing the internet's booming popularity.
"The wake-up call was finding this startling statistic that web usage in the spring of 1994 was growing at 2300 percent a year," he says. It was this that spurred him to consider how a business could be built to reap the rewards.
Bezos, then aged 30, came up with the idea of an online store and called in the support of his parents. They invested "a few hundred thousand dollars," despite their limited understanding of the web.
They were soon rewarded for their venture. Just 30 days from its launch, Amazon Books was generating $20 thousand in sales per week.
The business operated out of Bezos' garage, with a handful of employees working to package books and mail them out to customers.
Following its phenomenal success, Amazon became a public company. Five years after being founded, the company was valued at $300 million.

Still, in 1999 Amazon looked little like the online store we're now familiar with. In its first major expansion from selling only books, it branched out into the sale of CDs and DVDs.
Soon, they allowed third-party sellers to sell their own items on the site, which we now know as the Amazon Marketplace.
The business' expansion continued, with their offering growing to clothing in 2002, and web hosting in 2003, with the launch of Amazon Web Services.
10 years after the company's launch, Amazon entered the Chinese market, a key moment in the company's globalization.

The launch of Amazon Prime in 2005 marked another key moment in the company's history. For $79 per year, customers could now get free and fast shipping on an unlimited number of items.

In 2007, Amazon's first Kindle launched. This was its first time delving into the world of hardware, with the now hugely popular Amazon Echo still to come.
Bezos in the Media
Jeff Bezos now takes the number one spot on Forbes' rich list, with fellow tech giants Bill Gates and Mark Zuckerberg also making the top ten.
Bezos has borne the brunt of a fair amount of criticism during Amazon's reign as the giant of eCommerce.
In 2015, The New York Times released its expose of the company's working conditions, painting a brutal picture with an "unrelenting pace."
Amazon has also faced criticism over its carbon footprint. Bezos, however, says he is keen to fight climate change and has set up a $10 billion fund to help.
In 2019, he hit the headlines once again over his high profile divorce. Bezos' ex-wife MacKenzie, who is said to have been instrumental in Amazon's success, received an enormous $38 billion in the settlement.
Ongoing criticism of Amazon is that its influence simply drives out the competition. In a 2018 survey, two-thirds of small business owners felt that large corporations posed a threat to their livelihoods.
The company claims that, rather than a threat, it provides a platform for small businesses to thrive. "On average, U.S.-based small and medium-sized businesses sell more than 4,000 items per minute in Amazon's stores," the company claimed in a 2019 announcement.
In a new venture, Bezos bought The Washington Post newspaper in 2013, spending $250 million.
In true Bezos style, the paper has achieved huge success in the years since, adding more than 200 extra staff to its newsroom.