Jeff Bezos has been listed as the richest man in the world for three years and it was only at the beginning of 2021 that he was dethroned of that title by Elon Musk. Did Bezos make it on his own though?
Jeff Bezos is self-made in the sense that he made it through his own efforts to become the billionaire he is today. His parents did provide him with a $350,000 loan to get Amazon up and running, but this loan was also for a stake in the company. Bezos turned that money into multiple billions today.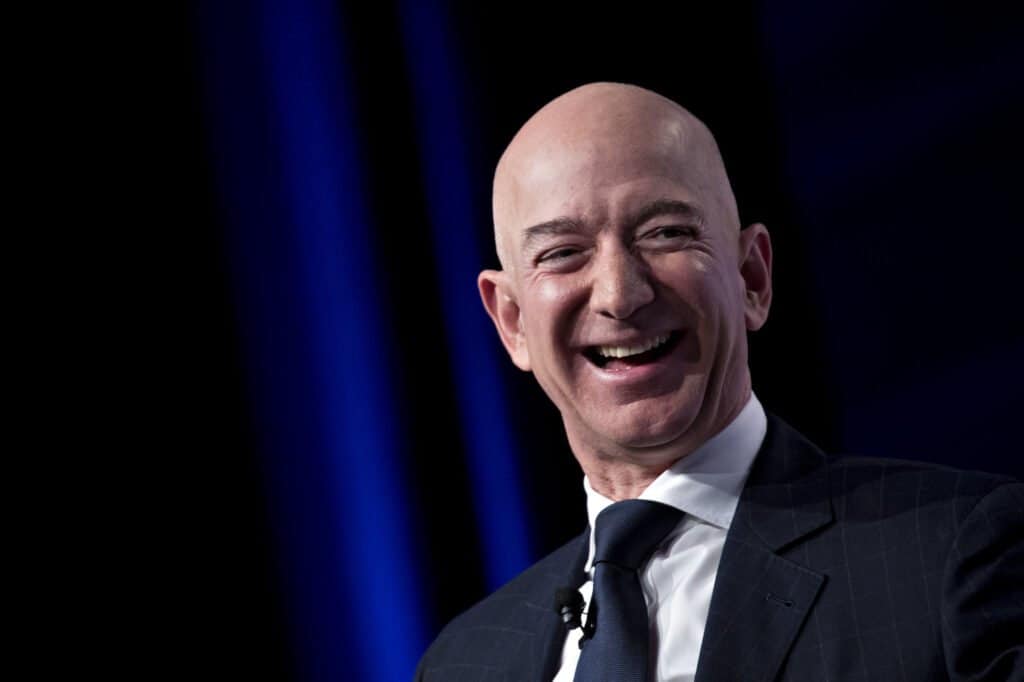 You can read more below about what it means to be self-made, Jeff Bezos' creation of Amazon, and his take on the possibility of Amazon failing.
What Does It Mean to Be Self-Made?
In order to be self-made someone has to make it on their own. As the Merriam-Webster Dictionary says being self-made is "having achieved success or prominence by one's own efforts."
The term 'self-made man' was coined by a United States senator, Henry Clay. Henry Clay used it in a speech that he made to the United States Senate and he said that a self-made man is someone whose success lies in the person, not in their fortune.
In that sense, Clay was getting at the idea that a self-made man could lose everything and still have the ability to rise from the ashes and make something new. A self-made man could become just as successful again.
If you look at that definition, you can actually determine that most of the world's billionaires are self-made men and women. Not a lot of them came from a family of money.
Elon Musk, the founder of Tesla, Paypal, and SpaceX is definitely a self-made man, having been born to a dietician and engineer. Mark Zuckerberg, the founder of Facebook, was born to a psychiatrist and a dentist in White Plains, NY.
Bill Gates, the creator of Microsoft, was born to a lawyer and philanthropist. Even Bernard Arnault's family had nothing to do with the fashion industry and had a modest amount of money compared to the empire he built.
Jeff Bezos' Creation of Amazon
Bezos had already been a department head, Director, Product Manager, and Vice President before he turned 30. So it was that in late 1993, he left his job as the Vice President of D.E. Shaw to start his own business.
He and his then-wife, McKenzie Scott, moved to Seattle from New York City so that he could start an online bookselling company. As has been quoted countless times by different news and business outlets, Bezos is the king of foresight.
Jeff Bezos saw the potential growth that was coming with the dawn of the online world. He was able to see what it could develop into and he also had a key insight into people's buying patterns.
You can watch a full Frontline PBS documentary about Jeff Bezos' self-made rise titled Amazon Empire: The Rise and Reign of Jeff Bezos in the below video.
It is this ability that has made him into what we would consider a self-made man today. He used a loan from his parents to get his company off the ground.
He would purchase books in bulk and then sell them off of his website because he knew that since the dawn of the printing press there always has been and always will be a demand for books.
From there he grew his business and branched into tons of other areas that have proven to drive his business and its worth up until 2017 when he became the richest man in the world.
Jeff Bezos Recognizes the Shelf-Life of Big Companies
As mentioned above, Bezos is often referred to as the king of foresight. He can often see the potential of a company or an idea from its beginning stages.
He is also well aware that all success eventually comes to an end and that most big booming companies have a shelf-life. This is another quality that you commonly see in self-made men, their ability to identify a sinking ship and get out.
In a 2013 interview with 60-Minutes, Bezos said "Companies have short lifespans… and Amazon will be disrupted one day."
It was five-years later in 2018, that Bezos even told his staff in a meeting that he believed Amazon would one day fail.
However, Jeff Bezos still has a huge number of investments in younger companies outside of Amazon. You can see the full list of companies Jeff Bezos is involved with here.