Emma Stone is an American film and theater actress. She is considered one of the most talented young performers with a number of awards under her belt including an Academy Award, BAFTA Award, and Golden Globes to name a few. We all know how Emma's career has blossomed over the years, but do we know anything about her personal life? Who are Emma Stone's parents?
Emma Stone was born and grew up in Scottsdale, Arizona. Her parents are Jeffrey Charles Stone, a general contractor, and Krista Jean Yeager, a homemaker.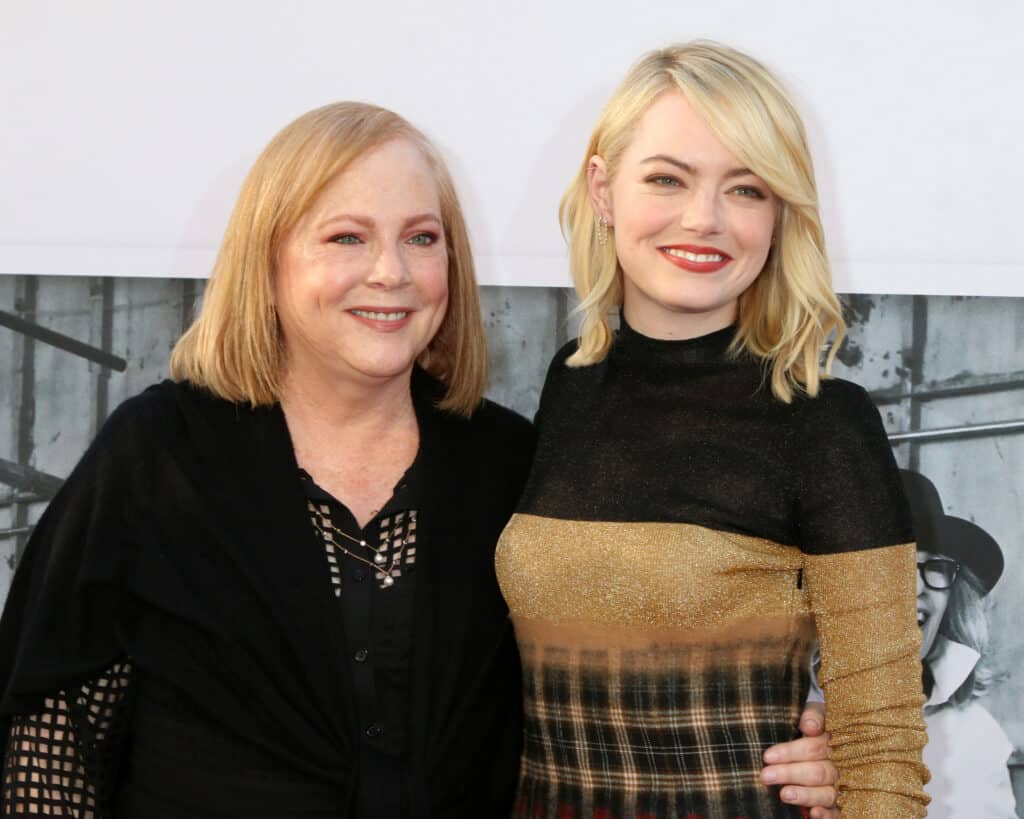 She has a younger brother named Spencer. Her family on the paternal side is originally from Sweden and she has German, English, Scottish, and Irish ancestry. Let's keep exploring Emma's personal life – scroll on.
Educational Background
A very private person, Emma does not usually divulge any details about her personal life.
We know that she studied at Sequoya Elementary School and Scottsdale Unified School District. Though Emma admits that she disliked being in school, she made it a point to get straight A's in her subjects.
She briefly attended Xavier College Preparatory School before dropping out to pursue a career in acting. Because of her longtime dream, she took vocal lessons for several years and was under the tutelage of a local acting coach.
Acting Credibility and Range
Her acting career has blossomed right before our eyes and it is largely because of the decisions she made in relation to the roles she chooses to play.
She takes part in both high-profile, big productions as well as indie films. While the latter may not necessarily rake in the big bucks, they give her the freedom to explore her acting skills and expand her range, thereby giving her more credibility.
Aside from that, Hollywood insiders also find that Stone carefully opts for characters that are down-to-earth, approachable, and girl-next-door types, very much synonymous with her own jovial and easy-going personality.
In a Vanity Fair interview, the actress shared that she looks up to Diane Keaton being the "most covered-up actress" in Hollywood, and Marion Cotillard, who oozes sex appeal without having to take off her clothes.
Heart of Gold
Emma Stone has been recognized by the industry to be one of the most influential people in the world.
A style icon in her own right, Emma has been regarded by Vogue to be one of the best-dressed, and FHM magazine included her as one of the sexiest women in the world.
These many accolades and success has not only propelled her to superstardom but also to mature as a human being. She not only is a magnificent actress, but she also is a philanthropist.
She lends her time to advocacies such as cancer awareness, Earth Hour, and Time's Up, a non-profit that aims to support victims of sexual harassment and discrimination.
Time's Up and Time's Up Legal Defense Fund were set up in January 2018 as a result of the Weinstein Effect and the Me Too Movement.
High-profile women in the entertainment industry like Natalie Portman, Meryl Streep, Shonda Rhimes, and Emma Stone published an open letter that states its goal to protect working-class women from becoming victims of sexual misconduct.
The creation of the Time's Up Legal Defense Fund, which will be administered by the National Women's Law Center, would work towards the creation of laws to punish companies that fail to address persistent sexual harassment.
$15 million was initially raised for this cause which later grew to $24 million as the organization gained more support from the likes of Oprah Winfrey and Melinda Gates.
Unfortunately, these two organizations had to be put on hold and would need a revamp since their involvement with the New York governor, Andrew Cuomo's sexual misconduct case.
Private Life
To stay grounded despite her Hollywood A-list status, Emma Stone maintains her privacy and that includes her love life and family.
Reports say that she and her now-husband, Dave McCary, met when hosted Saturday Night Live in 2016. She did a sketch called "Wells for Boys" in which McCary was the director.
Since then, rumors spread that the pair were going out. In July 2017, at the premiere of McCary's movie Brigsby Bear with Kyle Mooney, the two were spotted together and by October, they were officially "on" as a couple.
Fast forward 2 years, around December 2019, they announced their engagement via McCary's Instagram account with a caption of "double hearts." In 2020, they got married quietly without any fanfare.
The following year, the newlyweds welcomed their first child, Louise Jean, whom they named after Stone's grandmother on March 13, 2021.