With actions to support same-sex marriage, but block income tax on the super-wealthy, you have probably wondered where Jeff Bezos' political alliances lie; with the Democrats or the Republicans?
Jeff Bezos has managed to maintain a fairly nonpartisan stance. He has donated to nonpartisan initiatives like the With Honor Action. He also donates money to Amazon's political action committee; the money has been donated to both parties. Bezos has also been involved in an ongoing feud with US President Donald J. Trump.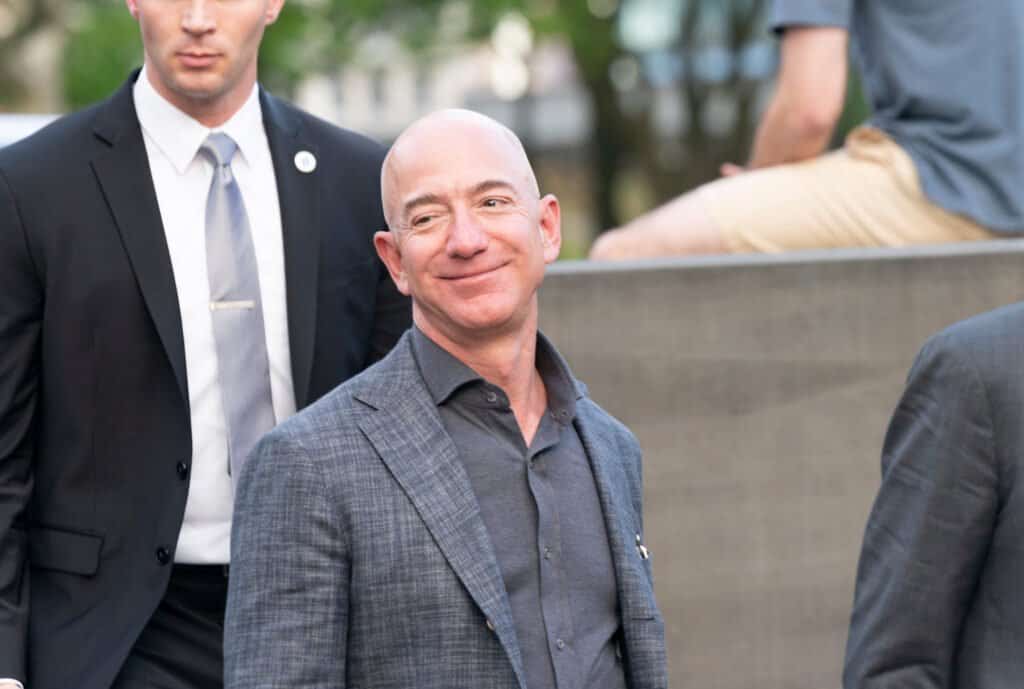 You can learn more about Bezos' role in the political world and his feud with Trump by scrolling down.
Providing Political Support to Senators
In the past, Bezos has donated to the political campaigns of a few different senators.
As this Financial Post article states, Bezos "made contributions to Washington Democratic Sens. Patty Murray and Maria Cantwell, and to Utah Republican Sen. Orrin Hatch and former Rep. Jason Chaffetz."
The people listed above are both Democrat and Republican party candidates. These actions support the nonpartisan stance that Bezos has maintained.
He has also thrown his weight towards causes that are largely supported by democrats, but then towards other causes that are backed by Republicans.
Bezos' Support for Both Political Parties
In 2012, Bezos made a $2.5 million donation to Washington United for Marriage who was running a campaign to have same-sex marriage legalized in the state.
This move would make people assume Bezos is a Democrat.
However, in 2010 Bezos donated to help bar the addition of an income tax on the super-wealthy in Washington State, an action that would make others assume he is Republican.
On top of these actions, Bezos has donated money towards Amazon's Political Action Committee.
Amazon's PAC is responsible for collecting donations from employees and then spreading that money around to different political candidates.
Amazon's PAC has historically donated money to both the Democratic and Republican parties, as well as to nonpartisan candidates.
The largest donation that Bezos has made to date was the $10 million donated to the With Honor Action. With Honor is a nonpartisan initiative that is working to have veteran's elected into office.
Their vision is to create a less divided political climate in America through the leadership of those who have made the biggest sacrifices for their country.
Bezos' Dealings With Donald Trump
Are you really having a conversation about American politics these days if Donald Trump isn't brought up?
Well, Trump is the unavoidable elephant in the room when talking about Jeff Bezos and his involvement with politics.
Bezos has been the target of Trump for years now, but why?
In 2016, Trump actually invited Bezos to join the Defense Innovation Advisory Board, but Bezos declined. Could this decision have been the fuel behind the President's fire? Probably not.
Trump has been consistent with his feud and boycott of The Washington Post; a news organization owned by Jeff Bezos.
Trump has stated that Amazon has caused the US Postal Service to lose money and he even tried to push the postmaster general to raise rates on shipping for Amazon packages.
Bezos is not a fan of Trump, however, he has managed to stay calm and collected amid the President's attempts to bait him into reaction.
One of the few times Bezos has reacted to Trump was just downright hilarious.
After Trump sent out this tweet:
This feud has now reached the courts with Amazon claiming that President Trump used his power to ensure a pentagon funded $10 billion cloud computing contract was awarded to Microsoft over Amazon.
You can learn more about the court case by watching the below YouTube video.