Regarded as one of the most beautiful women in the world, Priyanka Chopra was born on July 18, 1982, in Jamshedpur, India, and was crowned Miss World in 2000. The beauty queen has been rumored to have been linked to famous Bollywood actors like Akshay Kumar and Shah Rukh Khan, but who did she settle down with?
Priyanka Chopra married the youngest member of the Jonas Brothers, Nick Jonas, on Dec. 1, 2018, after four months of engagement. The couple wed at the Umaid Bhawan Palace in Jodhpur, Rajasthan, and welcomed their first child, daughter Malti Marie on Jan. 23, 2022, via surrogate.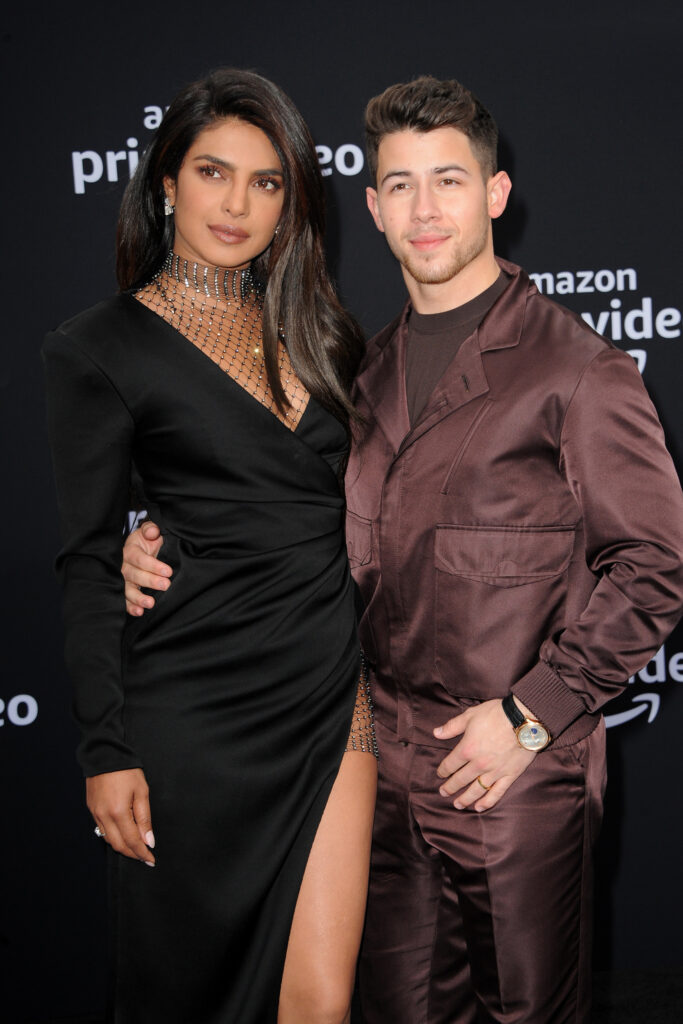 How They Met
According to US Weekly, the Indian actress got acquainted with the singer in September 2016 when he slid into her Twitter DMs and connected in person at the 2017 Vanity Fair Oscar afterparty.
They both attended the 2017 Met Gala in New York, invited and dressed by American fashion designer, Ralph Lauren. It was during this time dating rumors sparked but both told the public that they were just friends.
In May 2018, they were officially dating with an insider sharing that they were "a good match and they are both interested in each other." But did you know that they have a 10-year age difference?
Priyanka addressed this in her Instagram post for a Netflix Special on the Jonas Brothers where she said that they both teach each other things—she explains to him a lot of '90s pop culture references and he shows her how to use TikTok.
Why They Chose Each Other
In an interview with SiriusXM in 2021, the Jumanji actor was asked what separated Priyanka from other women that he dated. Nick revealed it was a magical connection when you know it's right. They were very lucky and knew each other well before they dated properly. Foundation as friends always helps relationships to evolve naturally.
"It's been a wild first couple of years of marriage but I'm very blessed and it's good to have a life partner that I can rely on and hopefully vice-versa", explained the Grammy winner.
Chopra shared with the Times of India that it was her ambition and drive that made Nick fall head over heels in love with her. They have things in common, like the importance of their careers, non-entitled backgrounds, and their hard work to get to where they are today.
Union of Cultures
When the power couple married, they also embraced each other's cultures. Nick has wholeheartedly embraced India while staying true to his American background. The love birds exchanged vows in a Christian wedding officiated by Nick's grandfather and had another ceremony with Hindu rituals where he wore traditional clothing.
Since then Priyanka has opened her husband to several Hindu customs, celebrating Indian festivals and holidays together along with Christian ones.
They celebrate Karva Chauth which is a festival celebrated by Hindi women of Northern and Western India on the fourth day after Purnima in the month of Kartika, Holi, and Diwali among others.
These have rubbed off well on The Voice coach and even asks his wife to do Puja before they start anything big. Puja is a worship ritual done by Hindus, Buddhists, and Jains to offer devotion and prayers to deities or spiritually celebrate an event.
First Joint Project
ELLE featured the husband and wife's first business venture where they both starred and produced a documentary series for Amazon based on their Sangeet. Meaning "music", Sangeet is an event held for several days before a traditional Indian wedding filled with festivities, dance, and music.
Amazon explained that engaged couples will be followed along with their wedding preparations and performance rehearsals with the help of stylists, choreographers, and creative directors in celebration of their special day, as stated on TV Line.
'We re-watched the video of our Sangeet last week on our first anniversary, and the togetherness of our family and friends during this event still sparks the same warmth and excitement that it did just over a year ago at our wedding,' said Priyanka Chopra Jonas.
Family Life
2022 was a special year for the Chasing Happiness star as he celebrated his first Father's Day. The beautiful couple posted on their Instagram accounts an adorable photo of their daughter with Jonas, standing from the back with matching customized shoes with Malti Marie's initials which were a gift from Priyanka.
The public was shocked about the announcement of their daughter's birth as both kept it under wraps as the White Tiger actress didn't have a baby bump and instead got a surrogate to give birth to their child.
Other celebrity couples like Lily James, Kevin and Joe Jonas, and Kate Bosworth were among the few who posted their congratulatory messages on social media.