When you start acting as early as Tom Cruise did, you get to earn a lot of money over the years. Tom Cruise is one of the richest actors and has made good income acting for several years. However, you might be wondering if he has attained the billionaire mark yet. Is Tom Cruise a Billionaire and how close is he to one if he isn't? 
Tom Cruise is not a billionaire. Although, he is one of the richest actors in Hollywood and worldwide. His early acting career paid off early enough for him to gather hundreds of millions. He is yet to attain the billionaire mark. Find out his real net worth and how he spends his money in this article.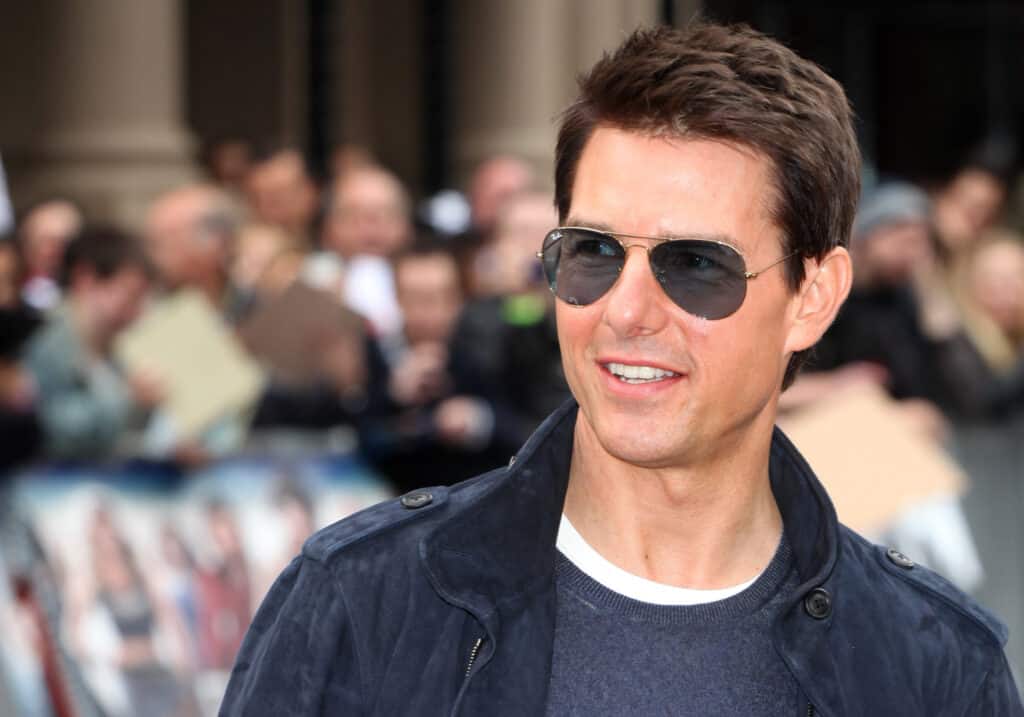 Tom Cruise's Net Worth
With an estimated net worth of over $500 million, Tom is always on top of the list of the richest actors in Hollywood and the world. He has steadily built his wealth over the years.
Tom is one of the highest-paid actors in the world with several accolades and hit movies to his name.
Acting as far back as 1981, he has featured in so many hit movies such as Risky Business, Top Gun, Rain Man, Born on the Fourth of July, Mission impossible series, and Magnolia.
The movie industry has been generous to Tom Cruise as many of his movies were commercially successful. It is reported that his films have grossed $10.1 billion worldwide and over $4 billion in North America.
With several awards and nominations, Tom Cruise is definitely killing it in the movie industry.
Tom's Highest Paying Movies
It should be recognized that Tom is one of the highest-paid actors all thanks to the success of his movies, and he has had several successful movies. As far back as 1996, Tom was cashing out big-time.
The premiere of the initial mission impossible film series was a huge success, and it was reported that Tom was paid $70 million for his role in the movie.
Cumulatively, he has grossed $290 million being Ethan Hunt and was reportedly paid $28 million for the Mission: Impossible- Fallout in 2018.
 Top Gun was the highest-grossing movie of the year when it was released. The Movie made over $350 million at the box office.
His other high-grossing movies include Rain Man which has made over 382 million Dollars as of 2017, The Firm, Tom's biggest-grossing domestic earner, War of the Worlds, A few Good Men, and Jerry Maguire.
How Tom Cruise Spends His 9 Figures
If you were as wealthy as Tom, what would you spend your money on? We are sure you can come up with one or two things that you would love to buy but cannot afford.
Well, the difference is that Tom Cruise can buy almost anything he wants, and he spends his money on things he wants.
From his passion for flying, which led him to purchase a G450 jet worth over 35 million dollars to helping someone clear their Emergency Room Bills of $7000.
Tom also spends money on expensive automobiles, mansions and of course he spends money to look good. Tom Cruise is also a giver, and he gives to his friends regularly.
He gifts his co-workers cakes and keeps in touch with some of his co-stars in movies.
It has been reported that he has never missed a birthday of his co-star and then child actor, Dakota Fanning.
He gives her a birthday gift every year. He paid for Glenn Powell's flight school and sent cakes to James Corden and other stars. Tom is a giver.
Also, Tom has not been so lucky maritally. He has suffered 3 divorces and pays maintenance and child support fees regularly.
Although Tom Cruise is not a billionaire, he is closer to becoming one. It is just going to take a few more movie deals, and he will be there.