Once upon a time, Emma Watson brought the character of Hermione Granger — and our childhoods — to life. Although she is still an incredibly sought-after actress, these days the star is more focused on her feminist endeavors and reconstructing what we view beauty as.
Emma Watson is a fierce feminist and eco-warrior who has searched high and low for appropriate products to make up her makeup bag! In her bag, you'll find sustainable concealers, contour sticks, blush, bronzer, eye shadows, eyeliner, mascara, and lip stains.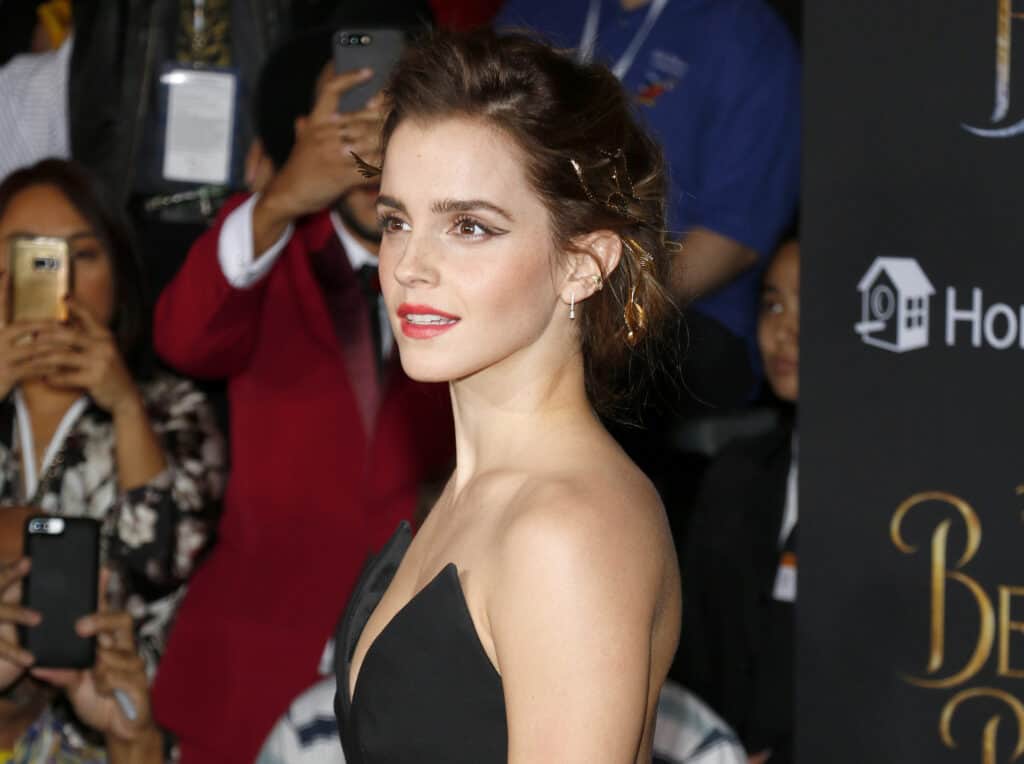 The childhood actress has loved makeup since her Harry Potter days and has fond memories of asking the makeup artists on set whether she could take a peek inside their makeup bags. She even went as far as to clean all of their makeup products and pack them back into their bags in a more organized way!
If you aspire to do your makeup the way this A-list celebrity does, you're in luck as you're about to discover exactly what can be found inside Emma's makeup stash which she hasn't shared with us since 2012. Spoiler alert: every product is clean and green.
Her Face
Emma simplistically approaches makeup and veers away from loading her face with too many products. She also exclusively uses green-certified products which often means that finding the products needed to create a full face of makeup can be a challenge.
Her makeup artist, Charlotte Hayward, uses the Kjær Weis Cream Foundation to create her base for red carpet looks as it is buildable and provides the light coverage that Emma prefers.
On her Instagram, Emma shared that she uses the Good On You app to make sure that the products she has her eyes on are environmentally friendly.
To conceal blemishes and brighten her skin, Emma uses the 'Un' Cover-Up Concealer by RMS and follows up with the brand's Un Powder. Next up she contours using Tata Harper's Bronzing Cheek Tint or Matte Bronzer and Vita Liberata's Self-Tanning Bronzing Powder.
On top of her bronzer, a shimmery Lily Lolo Cheek Duo is gently applied to the apples of her cheeks to achieve the soft, natural, rosy-cheeked youthful Emma look we have all come to know.
Speaking to Leaked Beauty, the beauty says "The object for me when applying makeup is you should be able to see as much skin as possible" and announces that she now embraces the freckles she once tried to hide.
Her Eyes
Emma's eyes are striking, and she uses a clever combination of makeup products to accentuate them even more. She exclusively uses the Perfect Pro Double Protection Mascara by DHC as it comes off easily with a little splash of warm water.
She keeps her the looks she creates for her eyes relatively muted using eyeshadows from Elde and Ilia.
To perfectly define her eyes, Jane Iredale's dark brown liquid eyeliner is Emma's favorite. She also uses the Clear Brow Gel from Jane Iredale to tame stray brow hairs.
Her Lips
One of Emma's ride-or-die makeup staples is The Body Shop's Cheek and Lip Stain in the shade Red Pomegranate. In addition, she uses the red shades in Lily Lodo's range, the matte lipsticks in Marion Cotillard's Absolution Cosmetics, and loves the colors found in Inika's collection.
Especially when she's doing a darker eye look, Emma will keep her lips looking as close to natural as possible to avoid looking overly made up. However, when she is getting ready for an event or special occasion she will don a bright red lip with vigor.
Her Skin
Emma takes her skin care seriously and makes sure to counteract the negative effects of too much makeup with a rock-solid routine. She cleanses using the Evolue Gentle Cleanser and tones using the Evolue's Firming Toner.
For moisturizing, Emma uses the MV Organic Rose Plus Booster as well as the Rose Soothing and Protective Moisturizer from the same brand. Evolue Resurfacing Grains is Emma's exfoliator of choice. Naturally, the natural beauty turns to strong sun protectants to keep her skin smooth, soft, and properly protected.
When it comes to the face masks loved by Kyle Richards, Kourtney Kardashian, and Victoria Beckham, this is one bandwagon Emma has not jumped on. She describes her feelings surrounding face masks as "meh."