Ever thought about what your favorite actor's first movie was? Or what they did before they stepped into the limelight? Tracing back our fave celebs' beginnings can be quite fascinating. In light of Bruce Willis' retirement, we're interested in looking back at his acting career – way back to his first movie and role.
Bruce Willis landed his first movie role in The First Deadly Sin in 1980. While uncredited because he was an extra, his debut was no small feat, as the movie starred two icons of Hollywood–Frank Sinatra and Faye Dunaway.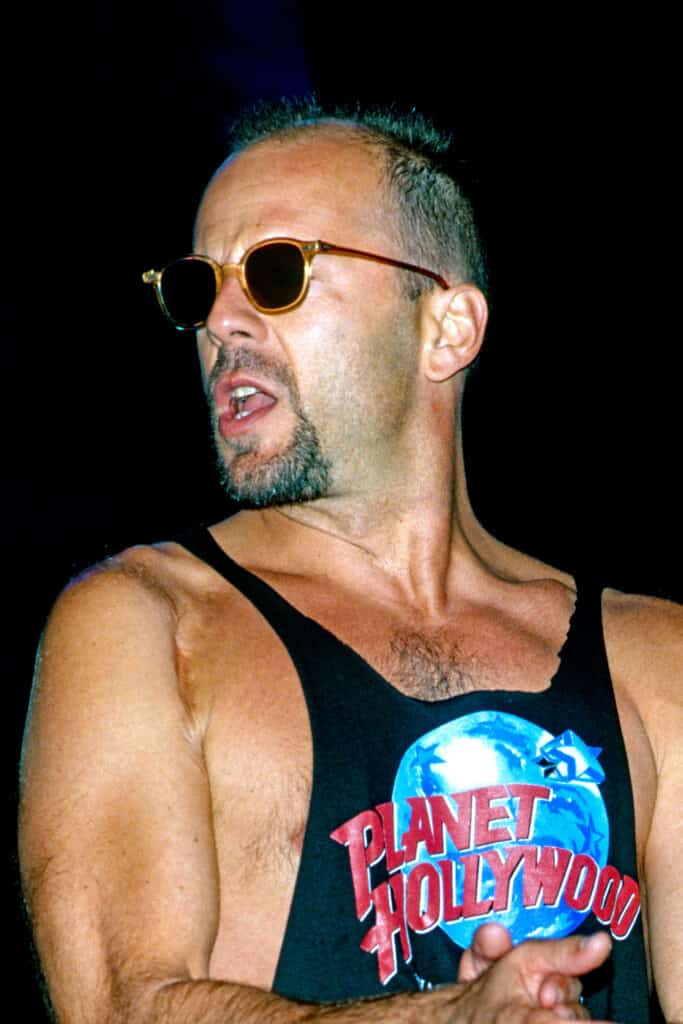 Bruce Willis has garnered over 100 roles under his acting belt, in a career spanning over three decades. Let's look into Bruce's beginnings in acting and in movies, and touch on his personal life a bit.
Who is Bruce Willis?
Bruce is now a retired actor but is still very iconic in the industry.
He was born Bruce Walter Willis on 19 March 1955 in Idar-Oberstein, West Germany. His mother was from Germany, and his father was, at the time, a soldier in the US military.
His mother later worked as a banker, while his father worked in a factory company and worked as a welder after being discharged from military service. Bruce and his family moved to his father's hometown, New Jersey, where he was raised in Penns Grove.
In school, Bruce was famous and had a good sense of humor. His friends nicknamed him Bruno. He was shy at first, conscious of his stutter, but was able to overcome it after getting involved in his school's drama club.
His confidence grew, to the point that he got elected as Student Council President.
When did Bruce start his acting career?
Bruce, who had a long-time interest in acting, ended up with minor characters after auditioning for many movies.
He started his acting career in 1980, taking on minor roles. His very first, while uncredited, was in the movie The First Deadly Sin starring Frank Sinatra and Faye Dunaway.
He hit bigger fame when he earned the role of David Addison in the series Moonlighting in 1985-1989, which earned him a Golden Globe award and a nomination for best actor.
He also featured in the 1988 movie, Die Hard as John McClane. The role earned him international recognition as an action hero. Die Hard expanded to four more movies after the original:
Die Hard 2 (1990)
Die Hard with a Vengeance (1995)
Live Free or Die Hard (2007)
A Good Day to Die Hard (2013)
In 1999, he played the role of Malcolm Crowe in the movie The Sixth Sense.
Who is Bruce Willis' wife?
Bruce got married to his first wife, Demi Moore, in 1987. The couple was married for over a decade. In 1998, they announced their separation and later filed for a divorce in 2000. Demi and Bruce remain friends.
The Moonlighting actor is currently married to Emma Heming Willis. She was born in Malta to a Guyanese mother and an English father. After her parents' separation, she and her mother moved to London together. Emma relocated to southern California, where she later finished her studies.
The two met in their trainer's gym. They sparked a special connection, and after two years, they got married.
What movies has Bruce Willis acted in?
Bruce Willis appeared first on-screen for an uncredited role in The First Deadly Sin before making his big breakthrough in the 1988 movie, Die Hard.
The now-retired actor has appeared in over 100 films and shows during his life as an actor. He acted in big-budget movies like Armageddon, The Expendables, and G.I. Joe: Retaliation, among others.
What is Bruce Willis' net worth?
Bruce Willis is one of the highest-paid and most recognized actors today. He is estimated to have a net worth of $250 million as of 2022.
The actor received a sum of $5 million, having appeared as the star in the movie Die Hard. It was quite surprising that someone so new in the industry earned that much.
In his other movie, The Sixth Sense, his earnings totaled $114 million.
When did Bruce Willis retire?
The Die Hard actor announced his retirement in 2022 after being diagnosed with aphasia, a medical condition characterized by a language disorder that affects his ability to communicate.
His retirement was announced via a joint family statement on Instagram.