Kendall Jenner has become an icon in the entertainment industry over the last decade, not only thanks to Keeping Up with the Kardashians – which lasted 20 seasons until 2021 – but also as a supermodel for brands like Estee Lauder and Victoria's Secret.
Kendall Jenner's height is not that difficult to estimate, but to be exact: the model stands 5 feet 10 inches tall – 1.78 m or 178 cm, according to several sources.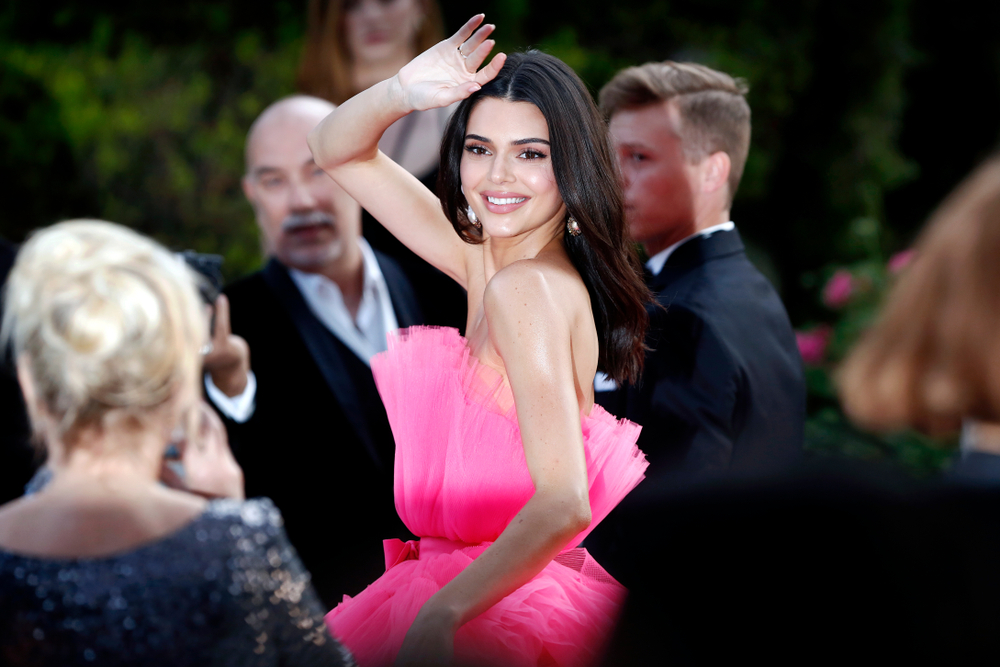 Fans and non-fans alike are interested to know everything about this stunner, especially her height! She has the same height as her sister, Khloé Kardashian.
Why is Kendall Jenner famous?
Kendall Jenner may be one of the youngest members of the Kardashian-Jenner siblings, but this lady packs a big punch, especially in the modeling world.
One of the highest-paid models walking the runways since 2018, Kendall's net worth has reached $45 million according to The Success Bug, most of which she acquired through her endorsements and fashion shows.
Kendall Jenner has managed to dominate social media as well, with millions of followers across different platforms. She has 260+ million on Instagram, 32+ million on Twitter, and 4+ million on TikTok.
Family Background
Apart from modeling, Kendall's success is primarily a product of an excellent marketing strategy orchestrated by their "momager" Kris Jenner. The family earned their spot in mainstream media when sister, Kim Kardashian's alleged sex tape was leaked. There was instant public interest for the members of the family, thus the creation of their reality TV show, Keeping Up With The Kardashians.
Kendall is the second youngest in the Kardashian-Jenner brood. Her father, Bruce Jenner, now known as Caitlyn Jenner, was a successful Olympian. Her mom Kris Jenner, was previously married to the deceased defense attorney, Robert Kardashian Sr.Although her older siblings – Kourtney Kardashian (now Barker), Kim Kardashian and Khloé Kardashian, and brother, Rob Kardashian – are her half-siblings, she grew up being close to them.
Kendall and Kylie Jenner are the youngest siblings, but they are moguls in their own right. While Kendall is flying high in fashion, her sister Kylie is living it up being Forbes' youngest self-made billionaire in 2018 with her cosmetics brand, Kylie Cosmetics.
Following her sister's academic footsteps, Kendall also switched to homeschooling which was facilitated by Laurel Springs High School. Prior to this, she attended Sierra Canyon School in California until the age of 14.
Who is Kendall Jenner dating now?
Kendall's been good at keeping her romantic affairs private. However, she has been known to date very high-profile men like musician Harry Styles and pro-basketball players, Ben Simmons and her current beau, Phoenix Suns player, Devin Booker. The two have been public and IG-official since Valentine's Day 2021 and seem to be going strong up to the present.
Business Venture
In 2021, Kendall Jenner was quoted saying "I like to zig when everyone wants to zag," meaning, she likes to go against the grain to differentiate herself from the crowd. This may be in reference to the business venture she's on, 818 Tequila.
Unlike her sisters who have built their empires on cosmetics and clothing brands, Kendall's direction is in tequila, a distilled beverage that originated from the blue agave plant, grown in the central western part of Jalisco in Mexico.
Kendall's 818 Tequila takes its name from the area code of Los Angeles where the supermodel used to reside. Since its launch, the tequila brand has been met with protests, particularly from tequila enthusiasts for cultural appropriation.