Michael Bublé is a multi-platinum recording star first known for covering classic jazz standards. He also is an accomplished songwriter with collaborations featuring Dolly Parton, Gary Barlow, and Sebatián Yatra. He was born in Burnaby, British Columbia, Canada on September 9, 1975, but is he Italian?
Bublé's grandfather, Demetrio Santaga is from the province of Treviso, Italy, and introduced the world of music to the singer, making him a great fan of the American songbook. The Grammy winner has dual citizenship in Italy and Canada.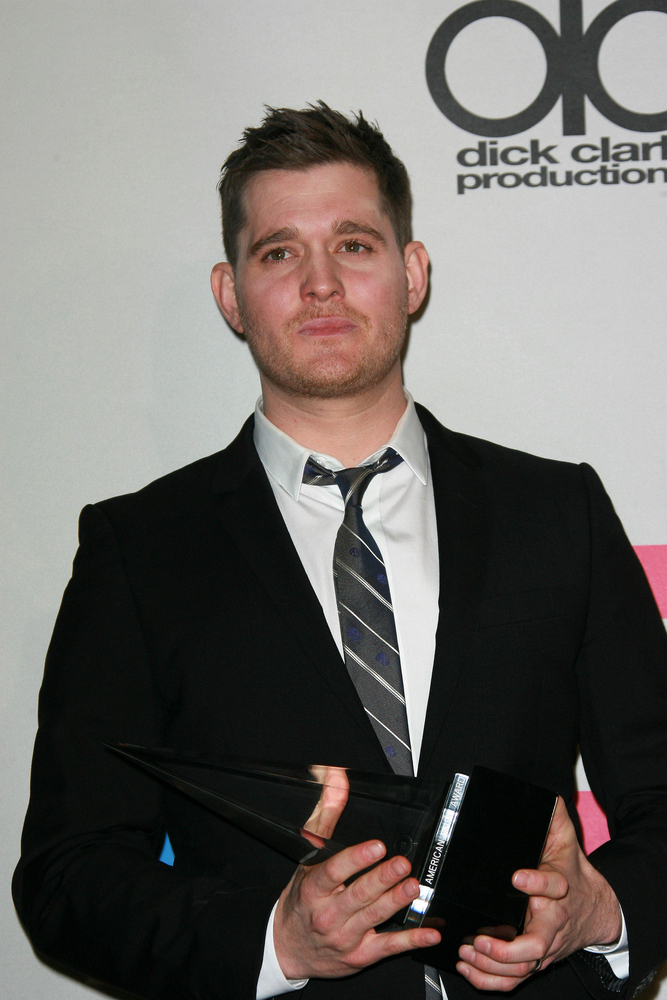 Early Life
His father Lewis Bublé was a fisherman, and his mother Amber Santaga was a housewife. He grew up with two younger sisters and was raised Roman Catholic. They went to Seaforth Elementary School and Cariboo Hill Secondary School.
Bublé's family reportedly noticed his singing talents when he was 13 years old, during the Christmas holidays singing along to the White Christmas on a family car ride.
Michael would spend his summers working as a fisherman with his dad and crew from age 14 onwards and claimed that working with elders taught him about responsibility and what it is to be a man. Grandpa Mitch would also pay for his singing lessons.
According to an interview with 60 Minutes Australia, Grandpa Mitch nurtured his grandson's singing career by sneaking the young singer into nightclubs. He would do plumbing services for people in the music industry to help Michael get auditions, stage time, and work.
For 10 years, the crooner worked in various nightclubs and strip joints around Vancouver but his grandfather always believed he would make it big.
In 2000, he finally got his big break when he sang at the wedding of the daughter of former Canadian prime minister Brian Mulroney and was introduced to the Grammy-winning producer—David Foster and the rest was history.
Love for Hockey
As a lifelong hockey fan, he wanted to be a hockey player, watching the Vancouver Canucks with his dad and grandpa during his younger years. Today, however, he is a co-owner of the Vancouver Giants. Making his involvement in the distinctly Canadian sport come true.
According to the NHL, he acquired the team Western Hockey League team in 2008 and shares ownership with Gordie Howe, former Toronto Maple Leaf and Vancouver Canucks coach, Pat Quinn.
Watch this video of the superstar singing during the playoff game in May 2022: 
Charity Work
Amidst his success, the multiple Juno-award recipient also gives back by supporting:
21st Century Leaders
A non-profit organization that connects, transforms, and inspires high school students across Georgia to leverage diversity, explore career opportunities, and become leaders in their schools, communities, and ultimately the workforce
Cahonas Scotland
This is a Scottish charity dedicated to raising awareness about testicular cancer and shout-out the benefits of education and self-checks.
ABC mentioned that Bublé, along with One Direction, Bruno Mars, Rafael Nadal, Patrick Dempsey, and more were those who signed neckties or other fashion accessories for auction.
Celebrity Fight Night Foundation
Cancer awareness hits close to home for Bublé and his family. His eldest son, Noah was diagnosed with liver cancer in 2016 at the age of 3. Thanks to chemotherapy treatment, his son has fully recovered. The megastar also is a big supporter of Celebrity Fight Night.
The non-profit organization has been active since 1994, with a grand yearly gala with live musical shows and distinguished guests and athletes. It was recently rebranded in the 2021 merger with Gateway for Cancer Research, striving to win the fight against cancer.
In 2016, Forbes featured Bublé as one of the celebrities that raised $8 million at Muhammad Ali's 20th Anniversary of Celebrity Fight Night. The event was held on June 12, 2014, at the J.W. Marriott Desert Ridge Resort & Spa in Phoenix Arizona. Country singer Reba McEntire was the host, and honors were also given to Robert De Niro and philanthropist John Paul DeJoria, with Robert F. Kennedy Jr. and Billy Crystal as presenters.
Stand Up to Cancer Carpool Karaoke
In 2018, The hitmaker and his friends were also featured in Express, UK for their efforts in raising £25 million by participating in Channel 4's annual Stand Up To Cancer telethon. He also appeared in James Corden's Stand Up to Cancer edition for Carpool Karaoke.
In the fun-filled, light-hearted segment, the Late Late Show host sang a duet to the Canadian crooner's hit songs—Just Haven't Met You Yet, Everything, It's A Beautiful Day and, Love You Anymore.
Corden dared Bublé to sing while ordering coffee, just to see how far the singer's voice would reach an unsuspecting female staff in a café. The pair was surprised the order was successfully heard and took off with an iced espresso.
Bublé will approach his fifties in the next few years but has already accomplished so much with the support of his family, especially his late grandfather. The international sensation continues to sell millions of records, and do charity work and despite this, he never takes himself too seriously. He also can be credited for making classic jazz cool again for younger generations while giving tribute to the greats.